Top 10 CBD Treats for Dogs: Which One You Should Choose.
(ThyBlackMan.com) Although the legalization of medical marijuana seemed a controversial couple of years ago, today the medical marijuana industry is estimated to generate up to 7.3 billion in sales. This is indicates increasing support of the industry by both the public and the state as well.
Owing to the growing support that's backed by the medical benefits, it's no surprise that veterinarians are also recommending medical marijuana to dog pet owners.
In most cases, marijuana for dogs is available in the form of oil and treat. And not unless your dog doesn't mind the oral application of hemp oil, CBD treats for dogs are preferred by most dog pet owners.
However, with its increasing popularity comes a plethora of low-quality sellers looking to dupe you just to make a quick buck. For this reason, we've compiled a comprehensive list of the top recommended CBD treats for dogs.
But before we can jump into the list, let's first look into the benefits of CBD for dogs:
Benefits of CBD Treats for Dogs
CBD treats for dogs contain cannabidiol which is a derivative compound from cannabis. This is to mean that the treats are completely non-psychoactive as they don't contain any THC, which brings about the high feeling experienced after marijuana consumption.
Here are the benefits of CBD to your dog: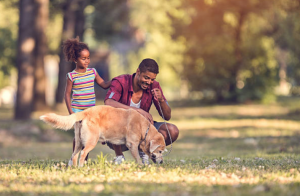 Powerful Painkiller
CBD treats can help manage pain as it the compound in the treats interacts with a dog's endocannabinoid system.
The reaction produced increases the absorption of anandamide, which is a chemical responsible for dampening pain signals in the brain.
Anticonvulsant
CBD is a natural anticonvulsant, meaning that it helps control seizures, tremors, tics, and spasms. Basically, seizures are caused by the uncontrolled firing of brain neurons. According to research, CBD helps restore order to these neurons causing them to fire normally hence preventing onset seizures.
Anti-inflammatory
CBD interacts with the receptors in the immune system of a dog thus invoking a counter inflammation reaction. As such CBD dog treats are the best for fighting conditions like arthritis, irritable bowel disease, among others that are characterized by chronic inflammation.
Reduces Anxiety and Stress
If your dog is suffering from separation anxiety, travel anxiety or certain phobias; CBD treats can help manage these conditions.
Similar to the typical anxiety medication, CBD works by increasing serotonin levels in the brain, resulting in reduced stress and anxiety.
Slows Tumor Growth
Unfortunately, cancerous tumors are common in pet dogs and may eventually lead to death even after numerous chemotherapy sessions. Not to mention the loss of appetite and diarrhea as a result of the chemo programs.
However, cannabinoids have proved to have anti-cancer properties which help the slow the growth and spread of cancer tumors. A combination of CBD treats and chemo sessions can help manage cancer treatment in dogs.
Promote Homeostasis
CBD helps promote a balanced internal functioning of the body. This balance is essential in maintaining a strong immune system to help fight any illness that may strike.
Top 10 CBD Treats for Dogs
With this in mind, let's look into the best CBD dog treats available in the market:
1. Koi Health Bites CBD Dog Treats
Koi Health Bites are bone-shaped dog treats packed with 22mg of the purest CBD in the market. The treats taste just like the traditional dog treats from the store, so your dog is picky with her food, she'll hardly notice any difference.
Each bag of Koi Health Bites contains 10 CBD treats.
2. Treatibles Pumpkin Hemp Wellness Dog Chews
These dog treats contain 1mg CBD in addition to their real pumpkin and peanut butter flavor. The formulation also contains coconut and turmeric, all of which have inflammatory properties.
If your furry is lactose intolerant, these gluten-free treats may serve you well.
3. HolistaPet Hemp Dog Treats
HolistaPet Hemp Treats are organic dog treats containing an excellent quality of CBD oil. The edibles are available in several flavors mainly; Sweet Potato and Yummy Blueberry. Depending on the variety you choose, the treats contain natural ingredients that boost your pooch's immune system as well as promote a healthy coat and skin.
The treats are further divided into three categories depending on the health condition you aim to manage. These categories include; Immune and Heart Care, Mobility and Joint Care, as well as Stress and Anxiety Care.
4. Moe's Happy Hemp Calming Bites
If your dog is dealing with anxiety from Moe's Hemp Bites are the solution to help your canine calm down.
You can also feed your dog on these treats in advance if she's going to be exposed to situations that make her anxious. For instance, if you're planning a long road trip, feed your dog these treats to help her deal with traveling anxiety.
5. Canna-Pet Dog CBD Biscuits
These biscuits are available in three main flavors; Apple, Peanut Butter and Banana, all which contain a mixture of CBD oil and terpenes.
Although their CBD ingredient is synthetic, it doesn't contain the psychoactive THC compound. The package comes with 40 biscuits each containing 80mg of CBD.
6. HempMy Pet Organic CBD Biscuits
HempMy pet is a veteran dog treat manufacturer known for its high-quality products.
And true to their reputation, they didn't disappoint when manufacturing these organic biscuits whose CBD is sourced from Colorado (one of the best marijuana growers countrywide).
The biscuits come in a variation of 2mg CBD for smaller breeds and 5mg for larger breeds. The best thing about these biscuits is that they're 100% human grade quality. So if you need to convince your dog to give them a try, you can take a bite first.
7. King Kanine Krunch Pet Treats
King Kanine Krunch is one of the best CBD dogs treats coming from a company with a huge range of CBD products for dogs.
The Krunch treats are a blend of CBD oil with a pile of vitamins and omega-3 oils for optimal nutritional value. You can find these treats in Apple & Cinnamon, and Blueberry & Oat flavors.
8. RxCBD Cannabis Dog Treats
CBD treats from RxCBD company are categorized depending on the size of your dog. There's the Big Dog Treats for larger breeds and Sampler Pack for smaller breeds.
Turmeric and ginger are also used as active ingredients in these treats to enhance the anti-inflammatory properties of cannabidiol. They're also human grade and include hemp oil.
The treats come in three sizes; large (60 treats), medium (30 treats), and small (14 treats).
9. Innovet Cannabis Treat for Dogs
CBD infused treats from Innovet use 100% organic, natural ingredients and don't contain preservatives, making them one of the best CBD dog treats in the market right now.
This gluten-free treats aim to improve your pet's appetite, digestion, and general health. They can also be used as preventive supplements to keep your dog healthy.
10. Austin And Kat CBD Infused Wellness Dog Biscuits
CBD biscuits from Austin and Kat contain 5mg of CBD oil per biscuit in a packet of 30 biscuits.
The CBD oil in these biscuits is sourced from the seeds and stalks of the hemp plant and usually, give a calming and soothing effect to your dog. They're handmade with organic ingredients and don't contain preservatives.
What to Consider When Shopping for CBD Treats for Dogs
Having known the best dog CBD dog treats the market has to offer, it would be great if you were to learn a few factors to consider when shopping for CBD products for your dog.
Here's what you should know before shopping:
CBD Extraction Method
Unfortunately, due to the lack of industry standards, some manufacturers don't use the recommended CBD extraction method.
Although this method is expensive it's the most effective and safest way of extracting CBD. Other methods such as the use of alcohol and ethanol have the possibility of toxins remaining in the concentrate.
Third Party Lab Results
For transparency on the chemical composition of CBD products, ensure the company you're buying from is endorsed by a reputable third-party lab. This gives you the peace of mind knowing that the ingredients used are safe for your pet and don't contain THC.
Organic Hemp
In most cases, it's best that you shop for organic and natural CBD treats mainly due to their pureness.
Inorganic hemp contains toxins from fertilizers and other solvents which can take a toll on your dog's health.
If the product you're about to buy doesn't specify whether the CBD used is natural, do not risk buying it.
Taste and Scent
There's no need for buying CBD dog treats if they smell or taste awful. Your dog won't eat them!
Buying treats that describe your dog's breed and habits go a long way into ensuring that your dog won't turn her nose up when you serve her. Moreover, keep your eyes peeled for shapes and flavors that will excite your canine's taste buds.
Get Your Dog Some CBD Treats
Shopping for CBD treats for dogs can be overwhelming given the wide range of options available in the market. However, a quick reference to the buying guide above can help you make the right purchasing decision when shopping for an effective CBD treat for your pup.
Follow our blog for more.
Staff Writer; Greg Love