HomePod: Apple Suggests Strong Sales, But Still Needs HomePod 2.
(ThyBlackMan.com) Apple HomePod along with the other Apple products in wearables, home, and accessories categories have set a new revenue record in the March quarter with $5.1 billion. Although Apple's iPhone product line accounts for the majority of the company's revenue, these three categories are getting stronger with time.
In the last quarter, products in wearables, home, and accessories categories accounted for nearly 8.8% of the company's overall revenue. Analysts predict that this segment is set to grow more in the fiscal year 2019-2020. Despite having a decline in the iPhone sales, Apple is enjoying "off the charts" sales in this segment.
Apple HomePod didn't fail, it simply couldn't keep up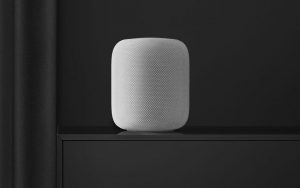 If you think that Apple HomePod was a failure then you're wrong. Apple never promised anything more than what the HomePod does. It is a smart speaker that brings Siri to your home without needing an iPhone. However, you need an iPhone to set up the speaker, but HomePod doesn't need your phone all the time to be able to play music, check the weather or answer questions using Siri.
HomePod has 3 big problems
As far as the sound quality is concerned, the Apple HomePod justifies its presence as it delivers the superb audio quality, thanks to Apple's engineers and product design team. There are three reasons why the HomePod didn't pick up well. First, Apple HomePod came late to the party. Second, Apple didn't realize that the pricing would hurt the product eventually. Third, Apple couldn't create a broad appeal with the HomePod.
One of the major problems the Apple HomePod is facing right now is competition. Amazon and Google are currently ruling the smart speaker space because their devices not only arrived early, they were priced reasonably. Most importantly, they tried to create a broader appeal by giving something more than a smart speaker which can play songs. Amazon, in particular, was more open to new experiments. The company not only experimented with the design of its Echo series of smart speakers, but it also opened doors for third-party developers who filled Echo speakers with many new features.
Nobody thought that a smart speaker will be capable of bringing voice-based games for kids as well as for adults, but Amazon did it. Here the credit goes to the Amazon Alexa team which added hundreds of thousands of skills to Amazon's voice assistant. This is something both Google Assistant and Siri were lacking. Even if you compare these voice assistants, you will find that even today, Siri is still behind Alexa and Google Assistant.
HomePod 2 can be a game changer
Apple knows that its Wearables, Home and Accessories segment is doing really well. The company has also enjoyed revenue growth by selling services and subscriptions. The company's most recent earnings call has made it clear that focusing on these areas can help it compensate for the declining iPhone and iPad sales. Apple also said that releasing a new version of its AirPods made a big difference in terms of sales despite the fact that the company didn't make any major changes in the product's design or the sound quality. Now, Apple has the opportunity to breathe life into its struggling smart speaker.
At present, the Apple HomePod looks nothing more than a niche product for those who are only interested in music and expect only that much from a smart speaker. It is more like a product designed for hardcore Apple fans than a speaker designed for anyone and everyone. Apple has already faced the same situation when it introduced Apple Watch. People were confused and were not really sure in which direction the product will go eventually.
Today, Apple focuses more on fitness and health-related features for its smartwatch. For the HomePod, Apple already decided to put more emphasis on the sound quality and other basic features found in the current generation of smart speakers. If Apple adds some more features, improves Siri functionality and releases HomePod 2, while keeping the price low, the smart speaker can turn out to be a game changer.
Apple recently slashed the price of its original HomePod, but the device is still expensive when compared with the other leading smart speakers from rivals. There are rumors about the HomePod 2 release, and the patent details suggest that the next generation HomePod could bring some interesting features. We are yet to hear official words from Apple on the same.
Staff Writer; Corey Shaw
Have any Tech Tips? News? Hit up our Tech Guru at; CoreyS@ThyBlackMan.com