Ways To Check If a Survey Site is Legit.
(ThyBlackMan.com) Survey sites can scam you in a variety of ways. Some sites simply exist to collect your personal information, though it varies as to whether or not they will send you tons of lousy offers or give it to scammers who may commit identity theft. More benign scams will ask you tons of information and ask questions, but they never pay out enough to be worth the effort.
Fortunately, there are ways to check if a survey site is legitimate or not.
Do a quick web search
A quick internet search can be enough to weed out some of the frauds. Do a web search on the survey site's name before you sign up. If there is not really a business website by that name, you are not being invited to sign up for a survey site, it is an identity theft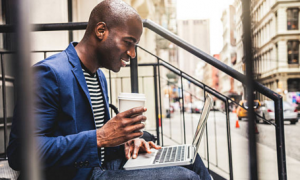 scam. If the web address is different than the business name, this is a major red flag. For example, domain names that imitate the legitimate survey site names, but replace it with zeroes or add extra dashes in the domain name are almost certainly frauds.
You need to determine which site is legitimate versus the one you are considering signing up for. You may find that the legitimate site has a .com at the end but the .biz is a rip-off. However, that does not mean that .com or .net domains are inherently safe.
Check the details regarding the website itself. If it does not have "https" in the address, it is not secure and you are looking for sites that will collect your personal information and should ideally send your payments. The better sites will have a secure connection as indicated by your browser. Some browsers will have a green "safe" logo in the address bar.
Read reviews somewhere other than their site
Do not read the testimonials on their website or their social media profiles. Read reviews of the survey site with the Better Business Bureau or third party rating sites. You want an independent answer to a question like is InboxDollars legit?. Review answers on a variety of review sites so that you have the whole picture about a survey site. Do they offer a lot of long surveys, but only pay you for them at first? Have they typically failed to allocate enough time for the survey so that you don't get paid when it times out? Do they present multi-page surveys before telling you that you don't really qualify? That is a warning sign, since they'll get significant information from you without paying you in these cases.
Another issue is the terms of service. A few places that advertise themselves as survey sites are really affiliate marketers. They pay you a token amount to sign up for subscription services or credit cards that cost you money if you can't cancel it in time. Or they are referring you to services and programs you cannot cancel before you are billed for it. If you want to receive a rebate for what you try or buy, then sign up for a rebate program, but don't sign up for a "survey" site that made you think you'd be earning money.
Review the site's design
If you have made it this far, you can visit the prospective survey site. If the survey site has poor English or bad grammar, it is probably not legitimate. Any survey site with suggestive ads isn't legit. If the site is covered in ads or buttons that will cause you to accidentally download something, close your browser and never return to that site again.
If you are required to fill out a survey to get past an ad, they are not credible. If they require you to complete an action like signing up for a service in order to get to a "paid" survey, quit and never come back. If any ad on the site redirects you to another website, kill it and do not go back to the survey site.
The next step is reviewing their terms of service and privacy policy. Note that a landing page that demands your email address before you can see their rules is not a real survey site but advertising gimmick. Suppose they have terms of service or a privacy policy. Do they give clear information on what to do if you are having problems receiving payment? Are there channels to reach customer support beyond sending a generic email? If they do not have a contact page at all, this is a red flag.
Lastly, reviewing the details that truly affect your experience as a member. Do they demand your bank account information to send your payment? Red alert. Do they require you to complete so many "deals" to qualify for payouts? That's a problem. Do they say that they can share your information with anyone and everyone, their affiliates and business partners? This may be an issue, since you could end up on all sorts of mailing lists.
Your privacy and financial information is too important to risk losing because you signed up with a fake survey website. Follow our tips to prevent falling for scam sites, so that you only invest time and energy in legitimate survey sites that will pay you well.
Staff Writer; Peter Love