Surface Go: Everything You Need to Know about Microsoft's iPad Rival.
(ThyBlackMan.com) The Surface Go is a 10-inch Windows 10 tablet in the Microsoft Surface product family. It is capable of handling all your everyday tasks and Office apps with the power of Intel processor. The Surface Go features better hardware specs than the current generation Apple iPad, and it is a budget tablet that you can carry anywhere no matter if you're a student or an entrepreneur. Here's everything you need to know about the Microsoft Surface Go.
Display
After the Surface Hub 2, seeing the smallest member in the Microsoft Surface family is exciting and fun. If you don't know, Microsoft has unveiled a Surface Go tablet that works as a laptop when the keyboard is attached. The Surface Go features 10-inch PixelSense display.
Let's begin with what PixelSense display is. If you already know this, you can move on to the next paragraph and for the rest, here's what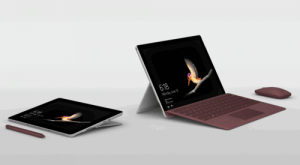 this technology is all about (in very simple terms). The display you see on the Surface Book and Surface Go is called PixelSense display. PixelSense itself is a platform developed by Microsoft to use touch input and digital content sharing at the same time. The display supports touch and stylus input methods.
The 10-inch display on Surface Go offers 1800 x 1200 resolution at 217ppi and 3:2 aspect ratio. The Apple iPad, on the other hand, offers a 9.7-inch display with a higher 2048 x 1536 display resolution at 264ppi. On paper, the iPad beats the Surface Go in terms of the display but for average users, it is not a huge difference. Microsoft is offering this resolution on a bigger screen and you can see that Microsoft has successfully made the pixels disappear.
It's probably the same design approach Microsoft followed for the Surface Studio when the company kept the Surface Studio's resolution limited to 4.5K even when the design team could easily beat Apple's 5K display. In an interview, Microsoft's Steven Bathiche said: "I'm trading off this tiny bit of resolution that doesn't matter at all."
Performance
The iOS vs Windows 10 battle will never end because it's more about personal preferences than technical differences and limitations. So instead of discussing that, let's see how these two devices compare against each other in terms of hardware performance. Microsoft Surface Go runs on Intel Pentium Gold 4415Y processor and can be configured with up to 8GB of RAM and 128GB of storage capacity. With Windows 10, the device runs almost everything you can expect from a tablet in this range.
Microsoft Surface Go can be attached to external monitors for desktop or media streaming purposes. Businesses, schools, and individuals have been early adopters of the company's Surface products. Microsoft expects the same happening for its Surface Go tablet. When Microsoft announced the Surface Go, everyone was curious about the processing power of the Intel chip. Microsoft claims that the company has worked closely with the chip manufacturer to optimize its performance. The low-end processor would do the job when it comes to performing everyday tasks and running mini educational games.
Apple iPad comes equipped with the company's A10 Fusion chip. The tablet features 2GB of RAM coupled with 32GB storage capacity. The memory and storage capacity is half of what Microsoft is offering with the starting model of the Surface Go. However, you can increase the storage capacity on both the tablets, but Microsoft Go beats Apple here as well.
Battery life and connectivity
Microsoft promises that its Surface Go, with fanless design, can last for up to 9 hours after a full charge. Most of the leading tablets last between 7-10 hours depending on the usage, so 9 hours battery life is quite sufficient for students and working professionals. Apple's 9.7-inch iPad offers 10 hours of battery life on a single charge.
The 9.7-inch iPad features a 3.5mm headphone jack, lightning port, and a nano-sim tray on cellular models. The iPad certainly feels limited and it doesn't provide any easy option to connect other devices. On the other hand, the Surface Go features a USB-C port, Surface Connect port, headphone jack, and a microSDXC card reader along with the company's standard Surface Type Cover port. Just like the other Surface devices, the Surface Go supports Microsoft's Surface Dial for off-screen interaction.
Price
By paying $399 for Microsoft Surface Go, you get a 10-inch tablet with 4GB of RAM and 64GB storage space. If you want more power on the device, the high-end variant with 8GB RAM coupled with 128GB storage will cost you $549. If you are choosing the 9.7-inch (Wi-Fi only) iPad, you will get the low-end model with 32GB storage, and 2GB RAM for $329 and 64GB storage and 2GB RAM for $429.
Staff Writer; Corey Shaw
Have any Tech Tips? News? Hit up our Tech Guru at; CoreyS@ThyBlackMan.com