Yet Another Eyebrow-Raising Situation In Milwaukee Area.
(ThyBlackMan.com) The casual sports fan would have been hard pressed to know what sport Josh Hader participated in one month ago. The 24 year old Milwaukee Brewers pitcher became known nationally for controversial, racist, and homophobic tweets that he made as a teenager that resurfaced as he pitched in the 2018 Major League Baseball All-Star Game. Since the tweets have resurfaced, he was ordered by Major League Baseball to complete sensitivity training, participated in the league's diversity and inclusion initiatives, and he has offered up an emotional apology to his Milwaukee Brewer teammates about his social media conduct in the past.
The latest situation related to Josh Hader was the standing ovation that Hader received in Milwaukee from some Brewers fans during Hader's first home appearance since his apology to his teammates. It was surprising to see the support from fans from a self-inflicted situation that Hader committed in which he displayed the type of racist, misogynistic, and homophobic statements that would be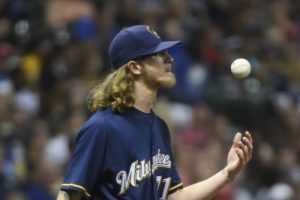 unacceptable in most social settings. The unfortunate thing is that there have been other intense situations in the Milwaukee area relating to Wisconsin athletes that show that it isn't the most progressive area in the United States.
Whitefish Bay, Wisconsin is so close in proximity to the city of Milwaukee that could be considered a "neighbor". In 2015, Whitefish Bay was the city where current Milwaukee Bucks forward John Henson, who is black, had a wild racial profiling incident at a Wisconsin jewelry store. Henson said employees of the store, Schwanke-Kasten Jewelers, refused to let him in the store, then called police. Prior to the police being called on him, Henson intended to look at a watch at the store and then store workers locked the door during normal business hours and told him to leave.
The store's owner, Thomas Dixon, apologized for the situation and said, "We all agree that racial profiling is never acceptable and deeply regret how the circumstances unfolded." Henson also said he was then questioned by police officers about the vehicle he was driving, which was a Red Chevrolet Tahoe, and what he wanted to purchase.
A high profile situation involving Wisconsin police happened to another NBA player for the Milwaukee Bucks during the most recent NBA season. Sterling Brown was arrested in the early morning of January 26, 2018 in a Walgreens parking lot in Milwaukee after Milwaukee Police started to check on a vehicle that had occupied two handicapped parking spaces. Brown was taken to the ground by a group of officers before one eventually tased him.
He has filed a federal civil rights lawsuit against the City of Milwaukee, the chief of the Milwaukee Police Department and eight Milwaukee Police Department sergeants and officers. The Sterling Brown situation also included shocking video footage of Brown being subdued and tased by the police in another situation of police mistreatment of people of color.
It says a lot about a city when one of the top executives of a professional sports franchise make strong social statements about that city. In 2014, the Milwaukee Bucks were sold to Wes Edens and Marc Lasry who hired Peter Feigin as the team's new president. Feigin has been honest in giving his opinion about the city of Milwaukee by saying to the Rotary Club of Madison in 2016, "Very bluntly, Milwaukee is the most segregated, racist place I've ever experienced in my life. It just is a place that is antiquated. It is in desperate need of repair and has happened for a long, long time. One of our messages and one of our goals is to lead by example." It was a stunning statement but shows that there are some significant issues in the Milwaukee, Wisconsin area that need to be addressed to this day.
Staff Writer; Mark Hines