Samsung's New RAM Module Doubles Your Gaming Laptop's Memory.
(ThyBlackMan.com) Most gamers don't need it, but the 32GB DDR4 module for a gaming laptop is a thing. Samsung has unveiled SO-DIMM RAM module which is industry's first module in this form. Samsung has doubled the RAM capacity on the new modules. It means you will get more power efficiency and better processing power on a gaming laptop.
In a blog post, Samsung confirmed that it has kicked off mass production of these RAM modules. Yet, the company didn't specify when the consumers will be able to buy 32 GB DDR4 SO-DIMM powered gaming laptops. The new module is based on 16GB DDR4 memory which was the largest capacity available before.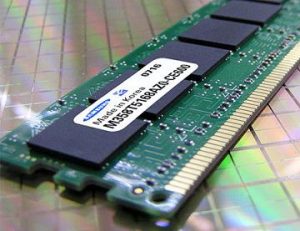 The new modules enable more engaging gaming experience with 10nm-class 32GB DDR4 SO-DIMMs. For those wondering what "10nm-class" is, Samsung is using this term for chips made using process node between 10 and 19 nanometers. When buying a processor for your laptop, you may have seen numbers like 28nm or 10nm. These are lithography figures.
The process indices or lithography figures tell you how much distance is there between two individual transistors. The more tightly packed transistors mean faster traveling of electrons. As a result, the modules consume less energy and are more efficient in terms of processing power.
There are a couple of facts you should know about Samsung's new 32GB DDR4 SO-DIMMs. It is capable of achieving 2,666 megabytes per second data transfer rate. It is an impressive 11 percent boost over the existing modules. The current modules offer 2400 megabytes per second data transfer rate.
The new SO-DIMM is 39 percent more energy efficient. It runs on 10nm-class process technology which is more efficient than the previous generation 16GB SO-DIMM. The old modules were based on 20nm process and were launched in 2014. According to Samsung, a laptop with 64GB of new memory consumes less energy than a laptop using the previous-generation module. On the new 64GB memory, a laptop consumes 4.578 W in active mode. But a laptop with the same configuration runs on 7.456 W on a 64GB DDR4 from the previous generation.
In the current scenario, game developers don't need more than 16GB memory. A large number of games don't even need more than 8GB of RAM. You can check PC recommendations of modern day games. You'll notice that only a handful of them suggest users have more than 8GB of RAM. Even for the highest graphics settings in 4K and VR games, 16GB is more than enough.
It looks like Samsung will keep its new DDR4 SO-DIMMs limited to premium gaming laptops. The new modules will certainly cost more than the previous generation modules. The laptop memory sticks available in the market are reasonably cheap. Low-budget gaming laptops don't need a 32GB DDR4 SO-DIMMs anytime soon.
The good thing is PC manufacturers can use the same configuration and design. With the new SO-DIMMs, laptop buyers can expect more battery life. Thanks to its power-efficient design technology. With the new 32GB DDR4 RAM modules, Samsung will target gaming laptop market. But the new product also paves the way for more powerful workstations. The workstations that can accommodate more RAM can take get more system memory.
Samsung is aiming to lead the memory technology in 10nm-class. The latest 32GB DDR4 SO-DIMM update follows some new product announcements. The company has announced 10nm-class DRAM line-up for PCs, graphics, mobile, and server setup.  It includes 16GB LPDDR4, 16GB DDR4, and 16GB GDDR5 products. Samsung also uses the technology in other segments such as automotive and supercomputers.
Staff Writer; Corey Shaw
Have any Tech Tips? News? Hit up our Tech Guru at; CoreyS@ThyBlackMan.com