HP Omen 15 Gaming Laptop Gets Design & Performance Update.
(ThyBlackMan.com) This year's HP Omen 15 is more powerful than the previous generation laptops. It includes Nvidia Max-Q graphics and Intel's latest processors. The laptop is also getting a design overhaul. Now the Omen 15 is 4.6 percent smaller in depth and 7.4 percent smaller in width. The bezels surrounding its 15-inch high-resolution display are smaller. Some improvements in the keyboard area make it look more beautiful than ever.
The HP Omen 15 supports 4K gaming at the 60Hz refresh rate. It also supports 1080p display resolution with 60Hz and 144Hz refresh rate. Previous Omen series models failed to achieve 4K gaming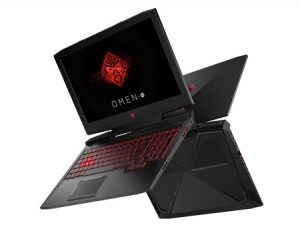 capabilities. The laptop now supports NVIDIA GTX 1070 Max-Q GPU. This graphics chip is VR ready so if you have a VR headset, plug it into your PC, set up your room for VR gaming and enjoy virtual reality with more power.
HP has upped the processing power on the PC. Now the Omen 15 supports 8th Generation Intel Core processors. The best thing is the laptop supports DDR4 memory which means you can configure HP Omen 15 with up to 32GB of RAM. What's more remarkable in the hardware area is the PCIe SSD support. The new Omen 15 laptop supports PCIe SSD for faster performance. It is also more energy-efficient.
Now if you're thinking why it matters, you should know that PCIe SSDs are used directly on motherboard slots. These hard drives do not need separate cables or a dedicated area on your PC's shell. A PCIe SSD can improve the performance of your laptop in many ways. It can improve the loading time of your programs which is good for video games. It increases the responsiveness of your PC and significantly decreases boot time. On the Omen 15, you can combine a PCIe SSD with a traditional Hard Disk Drive. On select models, you get Intel Optane memory for storage acceleration.
The HP Omen 15 features a smaller build and it looks like HP is taking the Omen laptops to a new direction. In terms of design, the Omen 15 is getting more portable and stylish. Putting powerful gaming hardware inside an ultra-thin laptop shell is not possible. But at least HP is trying to reduce the overall size without sacrificing the performance. The 2018 model of the HP Omen 15 features repositioned dual fans. The fans are now placed at the corners. In the middle area on the laptop's back, HP has given more room for vents.
The cooling solutions include a 3-phase motor and two fans with larger blades. The extra venting at the bottom allows air to go out quickly. As a result, the laptop gets efficient cooling even during heavy use. Under the Omen Command Center, there's an option for a performance boost. The default mode is suitable for all types of tasks. If you want to run heavy software or if your work requires more performance, you can choose the Performance Mode. This mode increases fan speed and boosts your laptop's performance. But it also increases fan noise as it forces the fans to run at a higher speed than normal.
The HP Omen 15 sports the same styling and logo as last year's model. The laptop features the same red and black case with angular lines. The Omen 15 also allows you to connect many PCs and stream your gameplay from your laptop to other machines. The laptop uses built-in streaming technology which is expected to be made available on all the Omen PCs in the future.
HP offers gaming accessories for its Omen Series laptops. These accessories include a mouse, keyboard, headphones and 4K monitor. The new HP Omen 15 will be available from July 29, 2018, at a starting price of $979. For gamers with a budget under $1000, the new Omen 15 is a good option. If you want to see more options, here's our list of the best gaming laptops.
Staff Writer; Corey Shaw
Have any Tech Tips? News? Hit up our Tech Guru at; CoreyS@ThyBlackMan.com