Destiny 2: Warmind DLC Is Above Average, But Keep Your Expectations Low.
(ThyBlackMan.com) Just like the previous expansion pack, Destiny 2: warmind DLC comes with new missions, new weapons and some highly anticipated changes in the gameplay. Destiny 2's new expansion pack Warmind brings some much-needed features players have been waiting for since the game's launch in 2017.
Looking at where we started Destiny 2 in 2017, Warmind appears to be a solid improvement. However, if we look at the content this expansion pack brings, keeping a few exceptions aside, everything is simply dull or needs improvements. If it sounds confusing to you, read on to see what Destiny 2: Warmind DLC is all about.
The new Destiny 2 expansion pretty much brings everything fans have been waiting for. New maps, challenges, setting, activities, weapons, campaigns, game modes, and adventures, everything is there in the new expansion pack. Warmind also brings new strikes and increased vault space. Another change in the Destiny 2 is the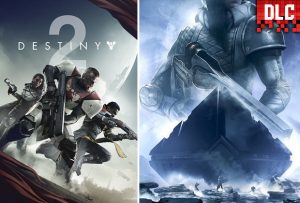 ability to use assignable emote wheel. Exotic weapons have got an overhaul and they appear to be very different from the legendary weapons. The expansion looks geared toward longtime Destiny players who want more challenging game levels and slower progression that makes Destiny 2 gameplay more demanding.
If you think that the Warmind DLC is a complete garbage because many are saying so, don't go with the flow. Warmind brings exciting surprises, if not many, but a few changes that make Destiny 2 worth playing again. Bungie has slowed down the progression in many ways. Players will now have to put a lot more time to reach the high power cap. Now when there's a decent number of activities to do in the game, none of them are going to take you closer to the high power cap unless you're putting your time in high-level activities such as raids and trials.
Warmind's campaign doesn't take more than two hours to complete. If you stopped playing the game after the release of the previous expansion pack, you can reach each mission's recommended power level with minimal grinding. As you progress, the game becomes more challenging. However, if you aren't interested in reaching the level cap and completing all the in-game activities, Warmind doesn't have anything special to attract you. It all depends on your patience level. Enemies are still the same and sometimes you'll feel that you're pretty much exploring the same place even when Warmind DLC takes you to a different region of Mars.
Destiny 2: Warmind DLC has left players with mixed feelings. Those who were excited about the release of this expansion pack now feel that it doesn't make any significant difference in the game. While critics said Warmind DLC is the last nail in Destiny 2's coffin, others who have played the new missions say that the DLC brings in some positive changes.
Warmind may look disappointing to many players for obvious reasons, but in the long run, it looks like it is paving the way for a better future. The improvements nobody was expecting from this DLC pack arrived as a surprise and now Destiny 2 is better than it was before the release of Warmind. The good things in the expansion pack don't necessarily belong to its content. Bungie's attempt to improve the overall gameplay is something more important for hardcore gamers.
It's fun when you run into enemies without having enough potential to fight them, but at the end of the day, you find yourself surrounded by the same boring monsters. Destiny 2 seriously needs some new enemy types because when you see yourself fighting with the same enemies in different places, it takes the fun away. For how many years Bungie wants players to shoot the same enemies is quite confusing. It's repetitive and boring. The good thing is weapons in Destiny 2 are getting better.
Destiny 2: Warmind satisfies some fans and gives them hope for a better future with small changes here and there, but it fails to give a strong reason to wait for the next expansion pack. The truth is even after a year, Destiny 2 players still don't have the game they were expecting from Bungie. If you are a Destiny 2 player, you only have two choices: stop playing the game or just keep treating Destiny 2 as a new IP and wait for the next expansion pack.
Staff Writer; Corey Shaw
Have any Tech Tips? News? Hit up our Tech Guru at; CoreyS@ThyBlackMan.com