Moto G6 and Moto E5: Which Model Should You Buy?
(ThyBlackMan.com) In April, Motorola unveiled six smartphones in Moto G6 and Moto E5 series, with each series having three variants. Not all the models will be available in the U.S. but four out of six will be available in the US. Here we are sharing details of all the G6 and E5 variants Motorola announced.
If you are planning to buy a phone under $300, Moto E6 and Moto E5 series phones are packed with modern day features and they don't cost you a fortune. The Moto G6 and Moto E5 series bring three smartphone variants including a regular, Play, and Plus model.
Moto G6 Series Smartphones
The Moto G6 series continues the modern trend with 18:9 display and dual camera setup. The standard variant and the "Play" model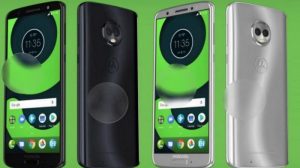 feature a 5.7-inch IPS LCD screen. The only difference between their displays is the resolution they offer. The former has 2160×1080 display resolution and the latter has 1440×720 resolution. The more advanced Moto G6 Plus sports a bigger 5.9-inch display and comes equipped with a better processor.
The Regular Variant
The Moto G6 runs on Snapdragon 450 chipset coupled with Adreno 506, and 3GB/4GB of RAM. The device comes with two storage options 32GB/64GB and it is powered by a 3000mAh battery. For more storage, you can add a microSD card on all the new Moto E5 and Moto G6 devices. The phone has a fingerprint sensor and the body is protected with water repellent nano-coating.
The Play Variant
The Moto G6 Play is a decent phone which is powered by Snapdragon 430 processor and Adreno 505. It is available in 2GB/3GB RAM models and comes with 16GB/32GB storage options. Unlike the regular variant that features a 12MP dual camera setup and 8MP front camera, this device sports a 13MP primary camera and a 5MP front shooter. The Moto G6 Play supports fingerprint sensor and it is packed with a powerful 4000mAh battery.
The Moto G6 Plus
This smartphone is not listed on Motorola US website which means the company is less likely to launch this phone in the U.S. market. The Moto G6 Plus runs on Snapdragon 630, Adreno 508 and comes in two options: 4GB/6GB RAM and 64GB storage capacity. Despite being the most powerful phone in the new Moto G6 series, it is packed with a 3200mAh battery. The phone's camera is the same as that of the Moto G6 regular variant.
Moto E5 Series Smartphones
The new E5 series smartphones are not as powerful as the phones available in the G6 series. The main reason is the processor. The E5 regular and Plus variants run on Snapdragon 425 chipset which is capable of performing well in light gaming and multitasking conditions. The Moto E5 series phones stand out in terms of display size. Let's have a look at what Motorola is offering here.
The Regular Variant
With a 5.7-inch display, the Moto E5 packs a 13MP primary camera and a 5MP selfie camera. In terms of battery life, it turns out to be a beast with 4000mAh battery which we expect to last after many hours of social media and gaming. The device comes with 2GB of RAM coupled with 16GB internal storage capacity expandable with the help of a microSD card.
The Play Variant
The Moto E5 Play comes equipped with the Snapdragon 425/427 processor coupled with 2GB of RAM and 16GB internal storage capacity. A 2800mAh battery powers this smartphone and its cameras (8MP + 5MP rear and 5MP front) produce decent quality photographs. A 5.2-inch screen makes it a perfect phone for small hands.
The Moto E5 Plus
This smartphone brings everything you can expect from a mid-range Motorola phone. It has a big 6-inch display, 3GB of RAM, 32GB internal storage capacity and a 5000mAh battery. The Moto E5 Plus sports a 12MP + 5MP dual camera setup and an 8MP front camera. The phone uses 18:9 aspect ratio screen at 1440×720 resolution.
Out of all the six Moto G6 and Moto E5 smartphones, only four models will be available in the U.S. market. Currently, the models listed on the company's website include G6, G6 Play, E5 Plus, and E5 Play. Motorola has not confirmed the release date of these devices. The smartphone will likely be available sometime in May 2018. All the Moto G6 and Moto E5 series devices will run on Android Oreo 8.0 and all of them have a 3.5mm headphone jack.
Staff Writer; Corey Shaw
Have any Tech Tips? News? Hit up our Tech Guru at; CoreyS@ThyBlackMan.com