The Truth of Genesis: The Two Olive Trees, Revealed Against Four Months.
(ThyBlackMan.com) As was said in a previous article (The Two Witnesses), on July 16 1994, through July 22 1994, there were 21 impacts upon the planet Jupiter.  Comet Shoemaker/Levy 9, which was fragmented into 21 large chunks, traveling in a near straight line, impacted upon Jupiter for seven days.  The impacts averaged about 18 hours apiece.  It is assumed that the spectacle was a warning sign from Yehovah.
The 21 impacts meant that in 21 years from the date the impacts started, the seven year countdown would begin.
The seven days of the impacts began on the Hebrew calendar date of the fifth month (Av) and the ninth day of that month, which was July 16 1994.  Twenty-one Hebrew years from that date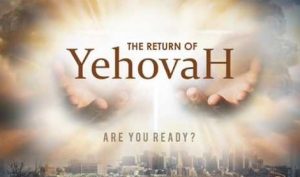 was Sunday July 26, 2015.  The half-way (3 ½ year) mark will be the ninth day of the eleventh month (Shevat), which is January 16 2019.  But there are other factors to consider.
I expect that Enoch and Elijah will reappear in Jerusalem, at the Temple Mount, and the Temple will begin to be built.  Yet there is a problem trying to determine the date that the two will begin their testimony.  I believe that they will be killed 3 ½ days before the end of the sixth month, which is the month of Elul, in the year 2022 AD.  We know that their testimony will be 1,260 days, which is just over 42 months and 2 weeks.
Their testimony cannot begin before January 16, 2019.  But how long after their appearance does their testimony begin?  How long after their testimony ends will they be killed?  I expect that there will be two Adar Bets (2nd 12th months) between 2019 and 2022 AD.  Yehovah controls the growing season, therefore the days of the First Fruit Offerings can't be determined until the end of each month of Adar.
If their testimony ends on the 9th day of the fifth month (Av) of 2022 AD, they would be yet walking around for another month and eighteen days, then killed close to 9:00 AM, and arise from the dead 84 hours later at the sighting of the renewed Moon, marking the feast of the Day of Trumpets.  We have the two Adar Bets to consider, and the month and a half either at the beginning of the 3 ½ year mark, or at the end of the seven year period.  That gives us nearly four months to ponder.
Yes, this is all a guess, but oh what a time to be alive, when we could see the beginning of the fulfillment of the "end of days".
Staff Writer; Herman Cummings
You may also purchase this writer book which is entitled; Moses Didn't Write About Creation.