Why Apple Should Feel Threatened By Fossil Smartwatch.
(ThyBlackMan.com) With around 57 percent growth in smartwatch sales, Apple now dominates the smartwatch industry. From its 11.3 million shipments in 2016, the company touched a new height of 17.7 million worldwide unit shipments in 2017. It is a massive growth but Apple is not alone in the game. In 2016, Fossil sold 2.1 million smartwatch units worldwide and in 2017, the company saw a whopping 133 percent growth with 4.9 million unit shipments worldwide.
Apple has not disclosed the exact figures but according to a report by Statista, Apple is at the top spot in the smartwatch industry. Apple's market share in smartwatch segment is pretty big and it is four times bigger than the consumer base of Fossil, but as we all know that the tech industry is full of uncertainties, there are strong reasons why Apple should look at the growth of Fossil.
Fossil Group is huge as it has 11 licensed brands and six brands of its own. The company did so well in watch market but with the arrival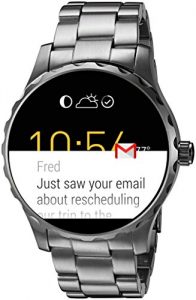 of Apple Watch, it saw a significant drop in sales. Demand for high-tech watches decreased interest in traditional watches and Fossil had to compete with Apple.
When Apple introduced its smartwatches, Fossil was relying on its traditional, fashionable watches and the company was lacking resources to compete with Apple. During a speech, Fossil CEO Kosta Kartsotis told analysts that Fossil was positioned well before the arrival of smartwatches. He said the introduction of technology into wearables put traditional watches under pressure. "We were disadvantaged," said Kartsotis. He admitted that the sudden rise in demand for smartwatches led the company's sales downward.
The company recovered from the loss quickly. Today, Fossil brings its smartwatches in two categories, one is hybrid and another one is touchscreen. The Gen 3 Q watches of Fossil come in different sizes, shapes, and colors. In the last two years, Fossil has seen significant growth in the wearable market. The company's financial reports suggest Fossil is finally taking steps forward in the market dominated by Apple. Fossil's sales of wearables nearly doubled in 2017 and its smartwatches now account for 14 percent of the company's watch revenue.
One of the biggest advantages of Fossil is the company is trusted by millions of watch lovers worldwide. The company knows how to hit different market segments and innovate in the smartwatch market. It's hybrid and touch screen watches are the finest examples of how strongly it made a comeback. When it comes to marketing, Fossil also has an advantage over its rivals, especially over the tech companies like Apple.
Hybrid watches from Fossil are gaining a grip on the smartwatch market in the U.S. and sales of these watches is expected to grow in the coming years. Hybrid watches have a single watch face and are limited to certain features. These watches increase users' dependence on smartphones but those who prefer fitness tracking abilities of a watch and don't like notifications floating on the screen, hybrids offer a great solution. The best thing about these watches is they last long – for weeks to months without charge.
With Apple working on the fourth iteration of its software and new improvements in Android Wear are being introduced almost monthly, the battle for dominance is stronger than ever. People don't just look at the price and design, there's so much more people look for and the differences go beyond these factors when it comes to choosing the right smartwatch.
As we know that Apple is known for singular experience, Fossil, however, is working with Google Android Wear. One side, it is Apple's huge unshakable fan base, on the other side, there are developers and Google's partners who are always ready to deliver new software solutions for wearables.
Choosing a smartwatch largely depends on the smartphone people use and with Fossil, both Android and iOS users can enjoy fitness and convenience with style, but with an Apple Watch, you have to become a part of the iOS family.
Staff Writer; Corey Shaw
Have any Tech Tips? News? Hit up our Tech Guru at; CoreyS@ThyBlackMan.com