5 Business Lessons Retail Store Owners Can Learn From Amazon Go.
(ThyBlackMan.com) What business lessons can retail store owners learn from Amazon Go? Well, this is something that needs to be answered. When people started predicting the death of brick-mortar stores, Amazon proved them wrong by opening the Amazon Go store in Seattle. You can't just imitate Jeff Bezos and you should not, but there are lessons which you should not miss. Here are 5 important lessons business owners can learn from the Amazon Go.
1. There's always a room for innovation
The first thing you can learn from the Amazon Go store is how to stay hungry for ideas. Decades ago, no one thought about an online marketplace, but it happened. Five years ago, nobody thought about building a store where people can just enter, shop and come out without visiting cash counters and without showing what they purchased.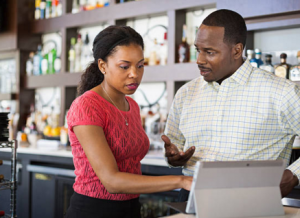 Never think that there's nothing left in your industry because there are still problems which you can identify. There is still a room for innovation to increase convenience for your customers. Think about it. And if you need a solid reason, well, you should know that just because Jeff Bezos chose to innovate, he added $2.8 Billion to his net worth just after launching Amazon Go in Seattle.
2. Technology doesn't always kill jobs
If you're thinking that your accountant will become jobless if you automate accounting with a software, you're wrong. Technology doesn't kill jobs. Instead, you can help your employees learn new skills and utilize those skills by creating new roles and responsibilities for them.
Amazon simply eliminated the need for cash counters, but it doesn't necessarily mean that humans don't work at the Amazon Go store. The roles of employees have been changed and they are now called customer service associates. You can find them working in the kitchen, stocking shelves and assisting customers in choosing the right products.
3. Reach where your customers are
The most important lesson you can learn from the Amazon Go store is you must embrace the use of new technologies. Amazon is using artificial intelligence to automatically add products to your shopping cart when you pick them up from the store. Using deep learning algorithm, computer vision, and sensor fusion, Amazon developed 'Just Walk Out' technology.
For a small store owner, it seems quite impossible to implement these techniques because a lot of manpower is needed to create such solutions. But how it all runs. If you closely pay attention to the overall operation, you will realize that Amazon catches the attention of customers by using a mobile app.
With the rise of technology, if you are still relying on walk-ins without any marketing efforts, you will lose customers to your competitors. Getting a mobile app or a website is easy and it doesn't cost a fortune to get one your own business. Start small, innovate and see things working for you.
4. Give your customers more reasons to come back
Amazon is not only selling products of other brands, it is also selling its own products at the store. At the Amazon store, you can not only just buy packaged food items, but the store also offers breakfast, lunch, and dinner prepared by in-store chefs. So when you step into the store, you get multiple reasons to come back.
You can buy products from Amazon online and get them delivered to your doorstep, but what if the store also serves ready-to-eat food that comes directly from their kitchen or from popular restaurants and nearby bakers? It is one of the reason you will visit them again.
Can you think of some ideas and give your customers some more reasons to come back? It is all about customer experience. The better you give, the more likely you will be attracting return visits.
5. Think long-term
Amazon is doing great online and the idea of setting up an online bookstore was there to break the boundaries. Later that online bookstore was transformed into one of the biggest companies in the world and Amazon now sells almost everything on its online marketplace.
The Amazon Go approach looks like a step backward because Amazon is now focusing on generating sales from a brick-mortar store in Seattle. But why it is not going to cause harm because you still make a purchase online and the best thing is, you don't need to wait for shipping as you can just go, buy the product and come home. These Amazon Go store will be available in multiple locations, meaning that Amazon will rule both offline and online world of shopping. Thinking long-term helps a business stay long in the market. If you think that your business is going in the right direction, keep going with a long-term vision.
Staff Writer; Corey Shaw
Have any Tech Tips? News? Hit up our Tech Guru at; CoreyS@ThyBlackMan.com