How Fitness Shapes Your Faith.
(ThyBlackMan.com) Millions of people will flock to gyms across America with one goal in mind: the body of their dreams. Some hope to overcome debilitating injuries or a pesky health issue; others will ultimately hope to shed unwanted pounds.
However, there is a penultimate consequence of exercising one's body that few people understand: that of exercising one's faith.
Is there a correlation between faith and fitness? The New Year stirs in most people a desire to be better, to do better and to live better. Faith is no exception. How many people promise themselves they will go to church more as a resolution?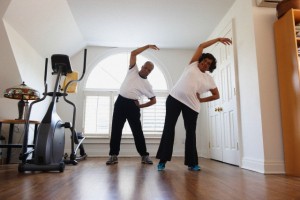 I suggest it's more important to grow closer to God than merely increasing one's church attendance, although going to church is important.
Can pursuing greater health lead to more intimacy with God? Can one attain a closer relationship with a Higher Power with a commitment to fitness? I believe so! Here are three reasons why fitness shapes our faith.
The Bible Implores Us to Care for our Temple
Physical health is a biblical mandate and is a viable necessity for deepening one's faith. Virtually throughout the Holy Bible we are admonished to honor the sacred nature of our physical body. Saint Paul writes in I Corinthians 6: 19, 20: Or do you not know that your body is a temple of the Holy Spirit within you? Elsewhere, the writer of John in the New Testament salutations include, I pray that all may go well with you and that you may be in good health, as it goes well with your soul. Elsewhere, Saint Paul also urges young protégé, Timothy, "bodily training is of some value".
Even the Woman of Proverbs is lauded for her commitment to her physical beauty; She girds herself with strength, and makes her arms strong. (Proverbs 31:17)
We Are at Our Best When We Live Holistically
If we have not been unfortunate to have suffered some catastrophic event at birth, we have an imperative to live as healthy as we possibly can and that means we understand our lives holistically.
We are not merely physical specimens; we are, in the words of Patrick Glynn, a 'piece of heaven and a chunk of earth'. We are body, mind and spirit and our sum experience on earth hinges on our willingness to honor the miraculous way in which those dimensions interact on a daily basis.
Living holistically brings greater clarity to the need to care for our Temple and thusly increases our faith. We are tasked to meet the demands of our physical environment; therefore, it requires of us a diligence to increase our stamina and endurance in the physical realm.
Fitness Gives Us a New Perspective on Faith
In 2008, I made the decision to improve my health. At that point I was almost 200 pounds – which at five-feet and nine inches in my forties – wasn't healthy! I made a plan and stuck with it; watching with utter amazement at how my body was literally transformed when I began training to become a personal trainer in January of 2009. I also discovered how my spiritual and mental well-being began to take on new meaning. Not only did my body change, my life perspective began to change, too. I was training my body, but I was also training my life.
We cannot get the best from life if we are unhealthy, if we are forced to live with daily negative health realities such as diabetes, metabolic issues, heart disease etc. This does not mean we don't do the best we can, it just means the healthier we are, the more joy and fulfillment we experience.
Make a commitment to be your best self in the New Year!
Staff Writer; W. Eric Croomes
This talented brother is a holistic lifestyle exercise expert and founder and executive coach of Infinite Strategies LLC, a multi-level coaching firm that develops and executes strategies for fitness training, youth achievement and lifestyle management. Eric is an author, fitness professional, holistic life coach and motivational speaker.
In October 2015, Eric released Life's A Gym: Seven Fitness Principles to Get the Best of Both, which shows readers how to use exercise to attract a feeling of wellness, success and freedom (Infinite Strategies Coaching LLC, 2015) – http://www.infinitestrategiescoaching.com.