Nikon vs Canon: Which Is the Best DSLR for Beginners?
(ThyBlackMan.com) For experienced, professional photographers it's always easy to invest in the right camera. But what if someone hasn't reached that level and is still thinking about Nikon vs Canon comparison. Those who are just beginning their career in photography or simply want to buy a camera because photography is their favorite hobby, making a choice between Nikon and Canon cameras sounds tough.
So if you're still confused and haven't invested your hard earned money in Canon or in a Nikon DSLR camera, here's what you should know to make a quick, wise decision.
Nikon vs Canon: The difference between brands doesn't matter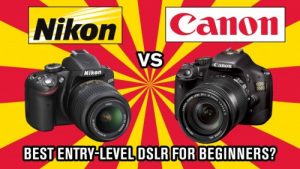 The discussion about Canon vs Nikon DSLR cameras is endless because both the brands are absolutely amazing and if we include Sony also in this battle of the best DSLR cameras, they all beat each other on different fronts. So if you are looking for a short answer to the big question, the answer is: the difference between the brands doesn't really matter.
So what should you consider when choosing a DSLR? Focus on the level of cameras from these brands. Comparing cameras by price range is easy, but when the budget is not a barrier and you find almost same features at the same price, the real problem starts. In such case, it becomes difficult for a person to choose a side.
The technology in both brands is amazing and it is truly about preferences and features you need. The reason is both the camera brands offer very much similar products at different levels ranging from beginners to pro. If you ask a professional why he sticks to a brand, there will be many answers, but the biggest reason will be the investment they have already made.
Once you buy a Nikon DSLR or Canon DSLR camera, you will most likely remain loyal to the same brand because you will be investing money on buying lenses and it will be the biggest reason why you'll be sticking to that particular brand. If you want to look for the basic differences, you should know one thing that most of the high-end models will offer similar features and build quality.
For example, if you choose Canon 60D or Nikon D5100, you will see that they are very much similar. Starting from the flip-out screen, you will notice that both offer 360-degree rotation. More specifically, the articulating LED. Both the devices run on different software, meaning that their respective manufacturers provide different menu layouts and UI for the settings and other options on the screen. This is once again very subjective. Here the Nikon vs Canon battle is similar to the question – why some people like iOS and why some prefer Android on their smartphone.
Nikon is highly popular among photographers due to the quality of its sensors. Nikon cameras provide very clear images even in low light. The noise reduction on Nikon camera is pretty impressive. It doesn't mean that the Canon cameras don't capture good images in low light. The Canon 5D Mark III camera is known for the quality of pictures it takes in low light.
Nikon vs Canon DSLR: Which One to Choose?
If you are still having the same question, then the best way is to consider two things. First thing is your budget and the second is choosing the features. Decide a budget and find cameras available in both the brands within the given price range. Narrow down your search by filtering out cameras on the basis of the features you need. If you're not able to decide on which features to dump and which features to select, note down the points read about them and decide.
If you have invested in good lenses for a particular brand, choose a camera of the same brand. Don't fall for the never ending Nikon vs Canon battle. Remember that the biggest difference is in the level of the cameras and not in the brands.
Staff Writer; Corey Shaw
Have any Tech Tips? News? Hit up our Tech Guru at; CoreyS@ThyBlackMan.com