How to Think BIG When you Feel Small.
(ThyBlackMan.com) The story was shared about a young up and coming executive who, along with three other account executives, was assigned a new office as he began his budding advertising career. Three of the offices were identical in size and decoration. The fourth office was smaller and less elaborate. This particular executive was assigned the fourth office. This turned out to be a blow to his pride; he felt discriminated against; his resentment grew and finally he began to lash out against his colleagues. Things got so bad that, finally, management had no choice but to let the young executive go.
Days later, it came to light that the company which employed the young man was in the midst of rapid expansion and office space was at a premium. The executive who made the office assignments had no idea which of the four offices was the smallest.
The only person who regarded his office as 'small' was the occupant – the young executive who was fired – because his made the mistake of thinking small.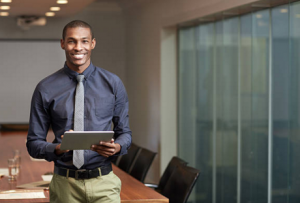 Here's the point: No one in the organization, except the account executive, regarded his office as an index of his value. Our value index plays a major role in how we feel in relation to our perception of how we've been treated.
There's not a person on this planet that has not at some point been in a similar situation: we think small because we feel small.
Here are three mindsets on how to change that dynamic – how to think BIG when you feel small.
Focus on What's Important
When circumstances conspire to make you feel small, you tend to think small. It is then that you must muster the courage to think BIG. Think BIG by focusing on what really is important to you. It's helpful at this point to know what your end-goal is and to stick with it.
What if the young executive had asked himself over and over, "What's really important here?" He might have been able to check his ego and salvage his career. We face similar challenges when we've been denied something we think we deserve – a promotion, a place on a committee, or a raise! Often, though, the results do not match our perceived reality.
Take an Outside-In Perspective
If that young executive had taken a different perspective, things may have turned out differently. We tend to look at our circumstances from only one perspective: inside-out. After all, it's happening to us and at us. Learn, though, to take a bird's eye view of your life; that is, learn to see yourself from outside yourself.
I have often reviewed by behavior from such a perspective, especially when it involved a disagreement with a person. Looking at it from the outside-in, I learned some things about tendencies and about my communication patterns. I saw some things that needed improving, as well as some things I did well.
Never Play to the Level of your Thinking
In other words, always, always think BIG. One of the most important success principles a person can ever adopt is the 'Self Q&A' – the willingness to ask oneself important questions – and the courage to provide the answers! The person who does not play to the level of their thinking, but rather who makes it a goal to think as BIG as possible, is the one who usually comes out on top.
That young executive played to the level of his thinking – in a cramped, small office that he 'thought' was indicative of his value. Don't make the mistake of thinking to your level or to the level of your competition.
We think small when we feel small. Today, think and feel BIG!
Staff Writer; W. Eric Croomes
This talented brother is a holistic lifestyle exercise expert and founder and executive coach of Infinite Strategies LLC, a multi-level coaching firm that develops and executes strategies for fitness training, youth achievement and lifestyle management. Eric is an author, fitness professional, holistic life coach and motivational speaker.
In October 2015, Eric released Life's A Gym: Seven Fitness Principles to Get the Best of Both, which shows readers how to use exercise to attract a feeling of wellness, success and freedom (Infinite Strategies Coaching LLC, 2015) – http://www.infinitestrategiescoaching.com.