Naruto and Life Lessons.
(ThyBlackMan.com) I absolutely love Anime, and though there are many kinds I tend to lean more towards the those that tell a ninja's story of some sort. Of course, there are exceptions to that such as "The Boondocks". When I sit down to think about favorite Anime shows, and ones that I would want to pass along to my kids when they are much older for life lessons purpose Naruto is number one on my list. In one show the understanding of so many life principles come to play in a beautifully woven storyline that allows the viewers to find themselves through a variety of characters, and backgrounds.
What I appreciated so much about Naruto is black people do exist in the show, they are strong and powerful. Though every character has their own set of struggles to work through there is no doubt the Riakage, leader of the Hidden Cloud, was a powerful brother with his house in order. I realized this by catching the show in passing as my husband watched, and played the game of course, but on one of those days whereby I didn't feel like getting up I took notice of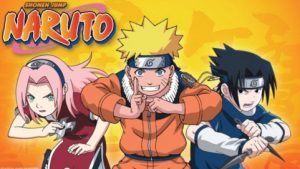 Naruto. The story drew me in because here was this kid that was orphaned, shunned, ad treated as a good for nothing screaming that he would reach the highest office in his village. He was acknowledged by no one until a teacher changed the course of his life by simply claiming him as one of his own.
This is powerful because so many have lived in this world alone, and all they have is a dream with no clear path as to how to make it come to pass. All they know is they don't have it in them to give up on what they believe for themselves. This is Naruto in short. No matter what was thrown this child's way he believed, spoke life, and worked endlessly. In is journey to fulfill his dreams he would cause other to believe in themselves…and believe in him. It was the narrative that the light of one can save many…a nation even.
I could right all day about the lessons of this one show, but aside from holding on to one's dream the show shed light on the true meaning of bonds. Naruto never gave up on the one person that was his friend, and alone just like him. He never turned his back on this friend even when said friend had become an international criminal. He was willing to fight Sasuke, the friend, to save his life.
Truth is he never gave up on anyone he ever called friend. The lessons of loyalty, and what causes us to be acknowledged amongst one's community is necessary to leadership. With all the good the main character has we also see the wages of wars sought for power. Like is shed extensively on the terror that is caused by pain, and ill use of power. Some seek power at the cost of humanity, and that often cause the demise of the power seeker and many of innocent lives.
We are a product of our community, those that love us, and those that made us even when we don't know who they are. I would hope that one day my son would be watching Naruto and agree that we will never give up, and allow it to be his "Ninja way". I'd recommend Naruto to anyone that watches Anime that's looking for a good show with meaning. If you have followed Naruto comment your thoughts on it; I'd love to hear your thoughts on it.
Staff Writer; Christian Starr
May connect with this sister over at Facebook; https://www.facebook.com/christian.pierre.9809 and also Twitter; http://twitter.com/MrzZeta.