Google Pixel C Tablet Deals: Is It Worth Buying Even With Discount?
(ThyBlackMan.com) Everyone in the tech world is trying hard to sell tablet PCs and the Google Pixel C tablet is also one of the products. From Apple to Microsoft, Amazon, and Google, everyone is trying their best to replace your laptop with a portable PC which you can carry anywhere with ease. Just attach a keyboard and the Pixel C becomes an Android laptop. The term "Android Laptop" sounds funny and it is actually funny. The highly overpriced tablet by Google gives you a great deal on hardware but takes away the productivity. Now when there are several Google Pixel C deals available, should you consider buying one? Let's find out.
Hardware: It's a beast
Google's Pixel C tablet beats Apple iPad on many fronts. When it comes to processing power, it comes with Nvidia Tegra X1 octa-core 1.9GHz processor. When compared with the new iPad's A9 dual-core 1.85GHz processor, it performs fairly well. The two chips work at almost similar speed. The Pixel C comes with 3GB RAM and is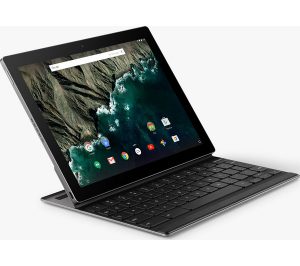 available in 32/64GB storage options. There's no card slot available, so you just have to stick to the available storage. The device comes equipped with a Non-removable 9240 mAh battery that lasts for approximately 10 hours. You can multitask on the device as it allows you to view and use more than one app at a time.
Overall, the device is powerful enough to handle average tasks. The 10.2-inch screen and a well-designed keyboard add more value to the deal. So, if the device meets your hardware requirements, you can go for it, but not without seeing the price. You can buy a Google Pixel C tablet for US$599 and now when many deals are available, you can get it at a less price (around US$100-150 less).
Software: It's half cooked
The biggest drawback is the device's software. The Google Pixel C tablet comes with Android Marshmallow 6.0.1 and is upgradable to Nougat 7.1.2. Of course, for any Android user, this is a great piece, but if you are ready to spend this much on an Android tablet, going for the offerings from Microsoft or Apple would be a better idea.
Android is a great platform for mobile and phablets. It gives a lot of power to users and doesn't put restrictions like how Apple does. The platform is really nice, but it's not good for computing. When a device ships with 10.2-inch screen or higher, most of the people, especially the students, freelancers and businessmen want it to replace their laptops, at least when they need to get things done faster or when they are away from their regular PCs.
When you use the device, you can feel that Android on a tablet like Pixel C is a bad idea. This is not a great operating system Google can fit anywhere. It's limited and it sucks. If you've used any Android tablet, you probably know how bad some applications look on large screens. Many apps aren't well-optimized for the large screens and they don't actually utilize the available area.
Where's the split-screen solution? We're in 2017 and almost every other company including Samsung, Apple and Microsoft has done something in this area. It's badly needed on the Google Pixel C tablet, but unfortunately, it is not there.
The Big Question
Should you buy it? Yes, you should. If you get it at a low price and if you are not ready to go for iPad or a Surface device, you should go for it. The tablet supports multiple users and also brings many apps that come in the mobile-style.
One big issue with the tablet is its software. The hardware is absolutely amazing and the designers have given their best to this device. What you are going to hate is: you're trying hard to use it as a PC but the nature of Android platform will restrict you in many places. If you're switching from Windows or iOS, you'll regret buying the Google Pixel C tablet.
Staff Writer; Corey Shaw
Have any Tech Tips? News? Hit up our Tech Guru at; CoreyS@ThyBlackMan.com