Buying Roku Player Ultra Version? 4 Facts You Should Know.
(ThyBlackMan.com) When you compare the Roku player Ultra version with other streaming devices including Apple TV, Amazon Fire TV Stick and Chromecast Ultra, it stands out. It's surprising, isn't it? Sideloaded content, dedicated support for headphone connectivity, small design, 4K with HDR support, strong video selection and highly user-friendly interface altogether make Roku Ultra the best streaming device to buy in 2017. But it doesn't necessarily mean that you should just go for it without considering these 4 facts.
1. Do So Much More With The Remote Without Losing It
Want to listen privately? Do it with Roku Ultra as it features the ability to connect headphone to its remote. It's a great way to watch your favorite shows or movies late night without waking anyone.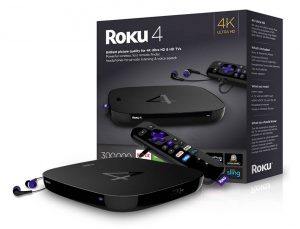 With the help of the headphone jack in remote as well as through its mobile app. Use your set of earbuds or buy new headphones.
Use its finder function and press the button on Roku box to locate the remote. There's an in-built siren in the remote which will make sound so that you can easily find it. Only Roku 4 and Roku Ultra come equipped with the remote finder. And remember, the Roku player ultra version ships with a point-anywhere remote so you can keep the box anywhere you want, even behind your TV.
2. Audio Experience You Can't Find Anywhere
The Roku Ultra is a streaming giant, with support for both Dolby and HDR. It's the only device that brings optical digital audio output. Most of the streaming devices available today do not give optical output. The 4K streaming devices, including the Google Chromecast Ultra, the Xiaomi MI Box, the Nvidia Shield, and Roku's own Premiere and Premiere+ lack this ability. These devices support HDMI audio only.
The Roku player Ultra version is intended for those having high-end TV sets and expensive home theater systems. The combination of optical digital audio port, Dolby Digital and Dolby Digital Plus support and a USB port for playing local media make Roku Ultra a great value for money option.
3. Roku Player Ultra Version Beats The Rivals From Apple, Google, Amazon & Xiaomi
You can buy Roku Ultra for US$109.99,  in a similar price range, you can get Apple TV and by shelling out around 80 dollars more, you can buy Nvidia Shield. There's no doubt that both these devices are compelling enough, particularly Apple for its growing range of applications, games, and Siri voice support. But the device lacks HDR support and 4K display capability.
If you feel that Nvidia Shield is a great Roku Ultra alternative, you should think again. It is an excellent device for gamers with 4K content and a strong PC. Those looking for a device to watch shows and movies instead of playing games, the Shield by Nvidia is not something they should be considering because with its Android TV OS support, you get less content to watch. Same goes with Google's Chromecast Ultra and Amazon Fire TV Stick.
4. Yet, There Are Drawbacks
The launch price has already been reduced now, but the company could have given an HDMI cable with the device. To get one, you need to shell out US$9.99. The Roku Ultra doesn't support Dolby Vision and its interface also looks outdated. If you compare the Premiere+ and Roku player Ultra version, you'll realize that both the devices are very similar to each other. Some users have also reported issues with heating since the cooling fan has been removed. Reports about audio issues including chirping also surfaced on the company's website. Users suggest that the video loses synchronization with audio spoiling the whole watching experience.
Staff Writer; Corey Shaw
Have any Tech Tips? News? Hit up our Tech Guru at; CoreyS@ThyBlackMan.com.