10.5-inch iPad Pro Is No Laptop Replacement, But It's The Best Apple Tablet.
(ThyBlackMan.com) Steve Jobs always wanted to replace your laptop and desktop PCs with iPad, but the new 10.5-inch iPad Pro doesn't fulfill his dream. There's no doubt about the power this new Apple iPad Pro brings to consumers, but you cannot ditch your laptop just because you've got a 10.5-inch Pro at US$649, here's why.
The Smart Keyboard Sucks, Even Today
The new 10.5-inch Apple iPad Pro is now bigger, more powerful and fits perfectly in the segment, but it still fails to convince us to consider it a laptop substitute in 2017. With the new iPad Pro, Apple offers an optional Smart Keyboard at US$159, which is not up to the mark. The keyboard is small and appears to be a smaller version of the same accessory Apple has been selling since last two year.
So if you think that this is the right time to ditch your laptop and buy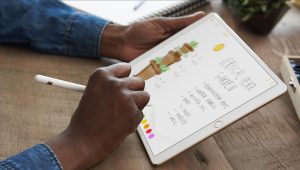 one iPad Pro, the keyboard is going to disappoint you. Why we need a keyboard because it not only increases the productivity, but also feels comfortable than the touch screen when it comes to performing complex, time consuming tasks. So the accessory is not at all going to help you in getting more productive.
The Smart Keyboard still lacks function keys, meaning that you won't be able to control volume and brightness levels. There's no Home key through which you can go to the home screen by a single press. Another major drawback of the keyboard is that it comes in a very narrow size. So typing on the Apple's Smart Keyboard is not comfortable and you won't be able to use it in the way you use a laptop. It limits the flexibility, resulting in making you less productive if you choose to work on an iPad instead of your laptop or desktop PC.
Now when the iPad series is years old, we expect Apple to solve these problems, but the iPad Pro is still disappointing us. There are third party alternatives available in the market. For example, Logitech has launched its own iPad Pro keyboard that costs less. But the problem with the keyboard is that it looks cheap and is also not very comfortable.
Pencil vs Mouse vs Trackpad
You know who wins here. Trackpad and mouse are meant to bring more productivity to work. Especially attaching a mouse to your laptop can dramatically change the way you use it when you stop relying on the trackpad. But when it comes to pencil, controlling things appears to be very awkward, unless you are holding the iPad in hand.
Unless you are the one who hardly uses laptops and finds tablets suitable for professional work, the new 10.5-inch iPad Pro is the best tablet ever developed by Apple, but for people like designers, developers and those who find keyboard and mouse an inseparable part of their life, it is better you stick to your laptop instead of shifting to an iPad.
It's still an iPad, but the best one
However, you can't consider the new 10.5-inch iPad Pro a substitute of your laptop, but it is the best tablet you can get from Apple. The new iPad Pro is comes in the perfect size -not too small and not too big. The iOS 11 is still away and we have to wait to get our hands on it, but once the update hits the Apple products, things will start to change in a very positive manner. The Pro range will become stronger and worth spending money on.
Both the 10.5-inch iPad Pro and the second generation of 12.9-inch iPad Pro are set to arrive on store shelves soon. The 10.5-inch iPad Pro starts from US$649 to US$1,079, while the bigger one can be grabbed for a price range between US$$799 and US$1,229.
Staff Writer; Corey Shaw
Have any Tech Tips? News? Hit up our Tech Guru at; CoreyS@ThyBlackMan.com.