HTC U Ultra Review: Features, Specification, Design, Price.
(ThyBlackMan.com) The massive phone HTC U Ultra stands out on many fronts. With the massive phone, HTC has made a huge change in its smartphone series. The U Ultra features a brand new build and design, strategic dual display, powerful cameras, 3D sound and fingerprint sensor. But is it worth buying? What's inside this HTC smartphone? Here you'll find all the answers in this HTC U Ultra review.
Since its launch, the U Ultra is getting great attention because of its rich features and specifications. The eye-catching new design and dual display make the phone different than almost all the other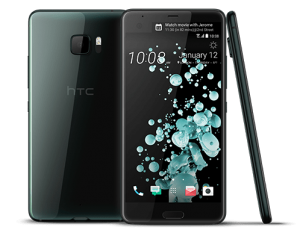 leading smartphone models available in the market. The 5.7-inch Quad HD primary display and an additional 2-inch display located just above it are the major attractions for the phone.
If you think that a secondary display is just useless since you can drag the top notification bar down and access the settings, the secondary display of U Ultra is more than what you think. Strategically integrated with apps, contacts and settings such as turning on or off Wi-Fi, Bluetooth and flashlight is easier than you think. You can check the location-based information such as weather and several other widget-like settings from the secondary display. Seamless integration with apps like Google Calendar is really amazing and accessing these apps looks flawless as they are greatly integrated with the phone's UI. The best thing is that you won't need to open up the phone's primary menu.
Fingerprint sensors are not anything unique in today's phones. But the fingerprint sensor in the new HTC U Ultra is very responsive and swift. You can save up to 5 different fingerprints. The sensor has 360-degree readability so you can record fingerprints at any angle. You can also expect the fingerprint sensor to be extremely accurate.
Google Assistant is available for a majority of smartphones these days, but here HTC has incorporated its own artificial intelligence based assistant, HTC Sense Companion. The AI assistant features a built-in voice recognition system which you can use for voice commands such as making calls, sending messages and for flawless navigation as well. The program recognizes your voice and improves user experience by giving recommendation on nearby attractions and also for traffic.
The HTC U Ultra features four highly sensitive omnidirectional microphones. They capture sound from multiple directions while you are speaking, recording audio and video. As a result, you get 360-degree audio experience. The company's USonic earphones optimize user's' listening experience by using the company's signature USonic audio platform that adapts the sound and optimizes it well. It should be noted that the U Ultra doesn't feature a 3.5mm audio jack, but supports USB Type-C.
The new U Ultra, like its predecessor comes with many camera features. The phone is a lot capable. According to HTC, the U Ultra's camera is highly improved one and surpasses the quality of HTC 10.
The phone's primary 12MP camera features face detection and laser autofocus. One can easily record 4K videos with 3D audio support. Additionally, the phone's camera features Optical Image Stabilization with Raw Capture that lets you save photos in different formats.
As far as the phone's dimensions are concerned, the U Ultra comes in a size 162.41 x 79.79 x 3.6 – 7.99mm. The mobile phone weighs in at 170grams. The smartphone comes in different colors including Brilliant Black, Sapphire Blue, and Ice White. The device runs on Android Nougat and is powered by Snapdragon 821 chipset. It comes with a storage capacity of 64GB and 4GB RAM.
The price of the HTC U Ultra is at the all-time low now. As per many reports, the company is planning a big announcement for the year and it is apparently going to happen anytime soon. So, as a part of this, the price of this smartphone has been cut down in many markets around the world. In Russia itself, the phone is being sold at 10 percent less than its price tag. On the company's official website, the phone is listed with a price tag of US$749.
Staff Writer; Corey Shaw
Have any Tech Tips? News? Hit up our Tech Guru at; CoreyS@ThyBlackMan.com.