OnePlus 3T Midnight Black Sold Out Worldwide, Company Teases OnePlus 4.
(ThyBlackMan.com) All the Midnight Black edition OnePlus 3T smartphone are officially sold out worldwide and the Chinese smartphone manufacturer is planning to bring a new phone very soon. OnePlus, on its Twitter account, posted an image with a famous line from Star Wars, "May the 4th be with you." What makes this post more interesting is the image that features both left and right edges of a phone. The sleek design makes and the numeric 4 look like the company is unveiling OnePlus 4.
To keep the 3T in among smartphone enthusiasts, the company introduced a Midnight Black limited edition of the phone. The sleek version turned out to be a successful step by the company as after a few days of its launch, OnePlus reported that the phone was almost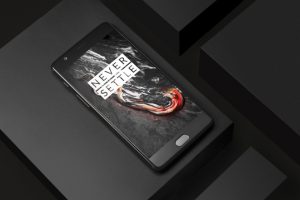 sold out worldwide and was only available in some regions including Hong Kong and the UK.
OnePlus initially intended to release OnePlus 3T in black color similar to its predecessor, but later, the company changed its plan due to apparent low production yields. Then finally in 2017, it managed to bring the limited edition which is now finally sold out everywhere in the world.
Soon after confirming the limited edition's departure from the global market, OnePlus shared a cryptic post on Twitter where the number 4 is highlighted with two phones crossing it. Many fans believe that the company has hinted at the arrival of OnePlus 4.
There are several reports about an upcoming OnePlus smartphone. Some have named it OnePlus 5, as they believe that the Chinese company won't bring OnePlus 4 because 4 is considered a bad number in China. On the other hand, there are fans who believe that the company will shot down the rumors and it will introduce OnePlus 4 smartphone.
The rumor mill is actively bringing new information about OnePlus 3T successor, but the company has not revealed anything other than the tweet which doesn't appear to be a concrete proof of the arrival of a new phone. But on Weibo, which is a popular microblogging website, OnePlus has shared an image showing some people building a phone and the text reads "indulge in labor without a break, just to make a big surprise." OnePlus has released a statement about the same saying that it was for Labour Day celebration in China.
Even after a so long, One Plus 3T is still one of the most popular and well-configured phones available till date. The smartphone OnePlus 3T features Snapdragon 821 with 2.35 GHz processing power and comes equipped with 6GB RAM. The device offers two storage capacity options 64GB and 128GB. With 4K video capturing ability, the phone accommodates two sim cards.
Now when OnePlus 4/OnePlus 5 is expected to arrive this year, it is being said that the new phone will be powered by Snapdragon 835 chipset that powers Samsung Galaxy 8 also. Additionally, the device is expected to hit shelves with a memory capacity of 8GB which is undoubtedly too much for a mobile phone. With no home button, the One Plus 3T successor is expected to sport a 5.5-inch display featuring 2K resolution.
If the reports prove to be accurate then the smartphone will probably surpass the success of its predecessors. The OnePlus 3T is known for its camera also. The 16 MP rear camera and a 16 MP front camera make it more appealing. It's hard to predict whether the new OnePlus phone (so called OnePlus 4 or 5) will take the handset market by storm with groundbreaking changes or it will disappoint the fans.
If the company will follow its previous year's release pattern, there are chances that we will hear the announcement sometime in June or July. Let's keep our fingers crossed!
Staff Writer; Corey Shaw
Have any Tech Tips? News? Hit up our Tech Guru at; CoreyS@ThyBlackMan.com.