ZTE Quartz Is Nothing More Than a Cheap Smartwatch with Limited Features & Sluggish Performance.
(ThyBlackMan.com) Only the price of ZTE Quartz is an appealing factor that will lead many smartwatch enthusiasts to buy. Other than that, you will get Android Wear 2.0 support, slow performance, "not really good" kind of design and poor 3G connectivity which is not at all going to convince you for a phone-free life. Here's what's inside the Quartz smart watch and everything you should and should not expect.
Forget Phone-Free Life
If you are planning to buy a Quartz smartwatch just because it claims to give you "luxury of a hands-free experience," think again. The smartwatch supports T-Mobile's network, but there's a major drawback. Be ready to use two different numbers if you are going for Quartz. One number for your phone and one for your watch because T-Mobile is still working on solution to enable users to have a single number for their smartphone and its connected devices. So, drop the idea of leaving your phone at home.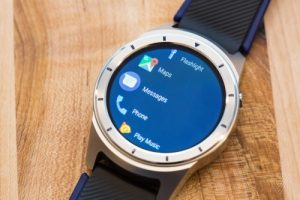 Android Wear 2.0 Is Not So Smart
Google's Android rules the smartphone operating system realm. But when it comes to Android Wear 2.0, you will realize that not all your favorite apps in the Google Play store can run on Android Wear 2.0 at this point of time.
So, if you are a WhatsApp, Instagram, Facebook, Outlook or Snapchat user, which you probably are, you'll only receive notifications on Quartz, but you can't access them without your phone. So now, when this is the case, the usefulness of this 3G-connected smartwatch appears to be very less.
NOT Fit for Fitness Freaks & Wallet Haters
If you hate carrying wallet because you are in love with the way you make transactions through Google Pay, ZTE Quartz is not the smartwatch you're looking for. Let's ignore this feature, anyway. Do you want your smartwatch to also work like a fitness tracker? Oh! Another batch of disappointment awaits you here because there is no heart rate monitor present in the Quartz smart watch.
Design Is 'NOT' For Everyone
The smartwatch ZTE Quartz comes in a diameter of about 1.8-inch and is 0.57-inch thick. It is a big-sized watch. Those with small wrist circumference will find Quartz ugly-looking, as its straps stick out and look weird. Even if you buy a new pair of short-sized straps, you'll find it uncomfortable on wrist.
Reasons to Buy ZTE Quartz Smartwatch
Price: The problems aren't a deal-breaker, as the price tag is really something which will not fail to convince buyers. The smartwatch features cellular radio that enables internet access and allows users to make calls without phone. None of the reliable watches available at this price range offer these features. The Quartz is available in select stores for US$192.
Speakers: Very less number of people play music on smartwatches as most of them prefer connecting their Bluetooth headsets for this purpose. But if you want to play music on Quartz, it won't disappoint you in terms of sound and audio clarity. The speakers are capable enough of giving loud music that can be heard from anywhere in a large room, even in little noisy environment.
Battery: The Quartz features a 500mAh battery, which lasts longer than any other watches available in the same range. Even after using multiple apps on the Quartz, the battery won't leave you soon.
Some Promising Features: The watch comes equipped with Google Assistance support, which makes voice commands easy. Additionally, you can switch between watch faces and can also use some apps that can work efficiently without having to connect your phone. A storage capacity of 4GB also helps you reduce the number of music files from your phone. Thanks to its IP67 rating, just like many other smartwatches, ZTE Quartz is also dust and water resistant.
Staff Writer; Corey Shaw
Have any Tech Tips? News? Hit up our Tech Guru at; CoreyS@ThyBlackMan.com.