From a Fun Hobby to a Rewarding Career: Reasons the Future is Bright for Young Drone Hobbyists.
(ThyBlackMan.com) What if we told you that you could transform your avocation into a part- or full-time occupation? If your favorite hobby is piloting personal drone aircraft, the future is bright as can be. Now is the time to start aiming your ambitions toward building a brilliant career with remote-controlled drones and quadcopters.
Who is hiring drone operators
Industries that are likely prospects for drone-flying job seekers include law enforcement, filmmaking, and delivery services. Humanitarian agencies may also be a good source of employment for drone operators.
Journalists and broadcasters utilize revolutionary new drone technology to capture footage of otherwise inaccessible and 'too dangerous' locations. Riot zones, war frontlines, and natural disasters are all locales where drone photography can make all the difference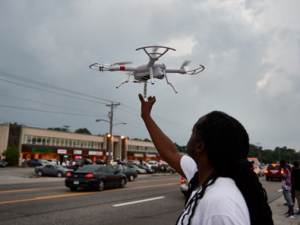 between getting a story out or relegating it a reject pile.
Security services and police departments utilize drone technology to search vast areas for missing persons and on-the-run criminal suspects. A drone camera can see so much more than a pair of human eyes, they can cover more ground in less time, and remotely operated flying cameras are generally less expensive to use than a full-time security staff, says LemonDrone.
The agriculture and winemaking industries are also beginning to use drone technology to inspect and monitor crops. Quadcopters with cameras are used to watch out for livestock herds, as well. In the near future, drones may be used to fertilize fields, feed animals, and other tedious tasks now best accomplished by humans. Of course, all the drones in the sky require regular maintenance and occasional repair. If you boast these skills, you can earn a very nice living as a drone specialist.
Aerial photography careers
If you are a photographer with well-honed drone capabilities, you might consider hiring yourself out to video weddings, birthday parties, vacations and other special events. Fstoppers magazine notes that some drone photogs make a bundle tagging along to document the momentous moments of other people's lives. Prior to purchasing a pricey drone, browse reliable review sites to find the best killer drones for sale that suit your purposes. There are hundreds of different kinds of drones out there, so it pays to do the research to ensure you obtain a drone camera that's just right for you. Should you go to work for a company as a drone operator, they may provide a drone for your use on the job.
Things to know about drone laws
Before you go into business as a drone operator, be sure you understand the laws and regulations as regards to unmanned aircraft. Your drone may require registration with the Federal Aviation Administration, depending on how much it weighs. Call your local airport and ask if there are any enforced no-fly zones anywhere you plan to work with drones. The FAA is serious about this and will levy a hefty fine for violators.
If you're excited about making drone flying your life's work, the time to start is now. Practice maneuvering the aircraft and seeing what it can do before you take it out on a professional assignment.
Staff Writer; Jerry Jacobs