Conquering The Business World With Software.
(ThyBlackMan.com) A lot of entrepreneurs know that the best route to a successful business isn't always targeting the broader base of consumers out there. It can be just as rewarding, and sometimes a lot more stable, to target business owners instead. Business-to-business providers build relationships, not just sales, and those tend to last (and pay) a lot longer. In today's society, there's something that businesses of all kinds are clamoring for. That's the software and apps that allow them to run their business better and to connect even further with customers. But besides the skills at creating that software, what do you need to be the go-to guy or gal for their software needs?
The big sell
If you know how to create software and apps and your skills are very broad, you might wonder how to market the business, first of all. It's not a bad idea to start with a niche, to have industries you've worked with before and show your expertise in creating solutions for those industries. But the better angle is not to offer solutions, but to ask for problems. Don't limit your scope of how you interact with clients by offering what you think they need. Make it clear that your process is an in-depth one that finds the root of their issues with them and delivers what they need based on what they tell you.
Making communication clear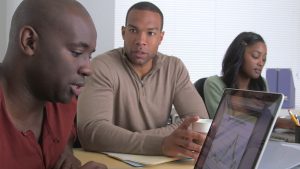 Developing software for business owners isn't like releasing an app on the consumer market. You're not selling something and hoping they want it. You're selling your abilities and ensuring it's what they want. To that end, user obsession must be the mantra of your business. You have to learn how to communicate with them without a reliance on jargon, but you also have to do your research on the industries you're working in to understand what exactly your clients are talking about. Even more important is that the communication goes beyond the initial brief. Users need to be able to contact you at any time. If they rely on your software, there's nowhere else they can go if they have a query or issue.
Get them on board every step of the way
As vital as good communication is a transparency that allows them to always know why you're justifying the costs of how they pay you. That transparency starts with outlining the availability of your services. Be honest about guaranteed uptime and expected service downtime, making it clear that you don't charge for unexpected downtime and the like. Communicate to them often on the different phases of building the business, too. When they ask for progress reports, you can use evidence like the data found in APM for developers to identify issues that you're currently working to fix. Get used to producing and keeping plenty of documentation to go along with the development process. Those who don't work in software don't always understand how in-depth a process it can be. Assuage any fears they're paying you to waste time getting it done.
Systemize as much as you can
Creating bespoke app and software solutions is a business that relies on problem-solving as much as technical skill. You'll be coming up with new solutions often, but starting from scratch every time isn't the most time or cost-effective way to do business. Make sure you're building up a database of 'sticky' knowledge. This means not just systemizing the development life cycle, but the production of software and app components that become more regularly requested features of the solutions you provide.
It's a service, not a product
This is the most important thing to remember. You aren't just selling them software. You're selling them a service, that aforementioned communication and transparency, and as much convenience as you can offer your clients. If you're offering a software suite as a Cloud service to multiple businesses, make sure there are plenty of options to customize their experience with the software. For instance, think about how you make it more accessible, what upgrades you can offer as time goes on, and how users can scale their access to your services. The customer experience comes first as you want them to keep subscribed to your software package or continuing to pay you for the bespoke services you provide.
Creating software, whether it's a mobile app or a desktop tool, for business needs more than computer smarts. You need to know how to create a service that engages them and keeps them part of the process well after you've launched 1.0 of what they wanted. Do it right, and you'll be helping them fulfill their software needs for a long time to come.
Staff Writer; Charles Washington