Self Sustaining Man Caves: Creating a Space You'll Never Have to or Want to Leave.
(ThyBlackMan.com) The idea of having a "man cave" in your house has been around for several years now: it's a space that men decorate like bars or with a sports theme so they and their friends have a place to hang out. Many houses now have man caves built in, but another exciting way to get your own space is to use a shed.
Whether you already have a shed that just needs a little renovation, or if you want to buy a new one, sheds provide a private space where you and your friends can enjoy watching the game or just sit around talking. You will, however, a little work to do yourself if you want to turn it into a fully-functional man cave. Here are some quick renovation tips to turn that shed into a cool hang out.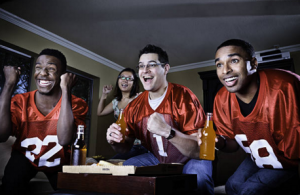 Run Electricity
If you want to really enjoy hanging out in your new shed, you'll need to have electricity running to it. This will allow you to plug in small appliances like a refrigerator or even an electric stove, as well as a television or radio.
Unless you are experienced with running electrical wires, you need to get a professional to help. They will be able to tie directly into the electricity already running to your property, and it shouldn't be that expensive. Not only will the electricity provide you with entertainment, you will also be able to use a heater or air condition so you can enjoy your man cave year-round.
Insulate
If you have a few tools, you and a few friends can have your shed insulated over the weekend. This will help regulate the temperature inside the shed so you're always comfortable.
You'll need to purchase insulation, plywood and new saw blades (like these from rs-online.com) before you being. Then, all you have to do is staple the insulation to the shed wall and cover it up with an inner wall, just like in your house. If you want, you can use drywall instead of plywood, which would allow you to paint the walls much easier. There are plenty of tutorials on insulation that can help you finish in no time.
Decorate
The coolest part about designing a man cave is having the ability to decorate it however you want. Have a favorite football team? Plaster their logo all over the place if you want. Like hunting? You can design the shed to look like a hunting cabin nestled in the wilderness. The possibilities are limitless, so you should think about how you'd like to decorate.
Sheds can be pretty limited on space, so look for furniture that serves dual purposes or that can be easily rearranged to suit your needs. Comfort and fun should be your top priorities in a man cave, so decorate accordingly.
Man caves are a great place to get away and hang out with your friends, and a small shed in the backyard can make it even cooler.
Staff Writer; George Adams