The Cars that Top Black Celebrities Drive.
(ThyBlackMan.com) Top black celebrities have a lot of money to spend. Some of these celebrities spend their money on amazing and hard to find cars, and ask about common questions about NYC parking tickets while others drive something more practical. Here is a list of some of the top black celebrities and the types of cars that they are known to drive.
Janet Jackson
Janet Jackson recently gave birth to her first child. However, while most new moms upgrade their car to something practical, Ms. Jackson went for something high-end and luxurious. Although this should not be surprising as her husband is a billionaire. Yes, billionaire with a "B." Janet Jackson currently drivers around in an Aston Martin Vanquish. These cars start at just over $285,000, not including any customization. So, it is safe to say that her baby is certainly living it up in the lap of luxury.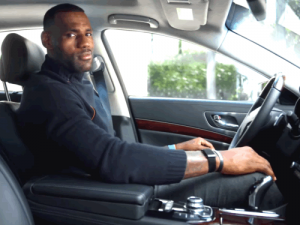 LeBron James
LeBron James is currently one of the hottest NBA stars, especially since he led the Cavaliers to an NBA title last year. However, while you may expect him to be spending his millions of dollars on his ride, he is actually rolling around in something very practical. LeBron James has recently been seen driving around in a Jeep Wrangler Unlimited. This car is affordable, retailing for around $25,000. So, while he could be driving around in anything, he is actually using something all of us every day folk can be riding in.
50 Cent
50 Cent may have filed bankruptcy and been forced to sell off many of the cars in his prized car collection, but that did not stop him from going big when he went to buy a new car. After paying off most of his bankruptcy debt, he went out and bought a Rolls Royce Phantom. This car starts at just over $415,000. If it was us, we'd be banking some of our money for a rainy day, but hopefully 50 Cent learns from his past financial mistakes and does not overspend on his indulgences this time around or have yet to take a defensive driving course online.
Shaquille O'Neal
Shaquille O'Neal was one of the best basketball players back in his day. And he has amassed a huge fortune as a result. However, unlike other superstars, this giant tends to live modestly. He lives in a home that costs less than a million dollars and drives around in a car many of us everyday people do. Shaquille's go to car is a Hummer H2. However, while Shaq may use this as his everyday car, he does have another that he uses for special occasions. Shaquille O'Neal does own a Rolls Royce Phantom that he has rarely been photographed in.
Samuel L. Jackson
Samuel L. Jackson is one of the most recognizable black actors of all time. And he is said to be a car aficionado as well. As such, it makes perfect sense that he would be driving a high-end, luxury car. Mr. Jackson owns a Maybach 57 S that he uses for his day-to-day car. This car retails for just under $400,000. It is also a rare car, so even if you did have the money, getting your hands on one may be hard. Unless you are a Hollywood movie star, like Samuel L. Jackson.
Forest Whitaker
Forest Whitaker is another popular black actor. However, he is making an environmentally friendly decision with his car. Like many other celebrities, such as Leonardo DiCaprio, he drives around in a Toyota Prius. The Toyota Prius starts at around $28,000 and is a leader in hybrid vehicles.
Some celebrities are just like us and others are not. Looking at the vehicles they drive will help you see which celebrities may be grounded and which enjoy the best automobiles that money can buy.
Staff Writer; Mark Moore