How Students Can Spot a Genuine Company to Buy Essay Online.
(ThyBlackMan.com) As we are all aware that the internet is already saturated with fake essay writing companies, it is crucial for students to be very careful so as not to fall victims. These scammers often pose as experts and make students lose time and money. Some students would have submitted their essay and will only discover that they've been duped when they receive low grades from their tutors. In case a plagiarized essay was delivered to a student, he may be suspended or expelled from college. In view of this, students should strive to buy essay online from trusted service providers only. Before choosing an essay writing company, consider the following tips.
Professional essay writing companies always include the correct contact information on their website. Potential clients can then use it to get in touch with the customer support. During your interaction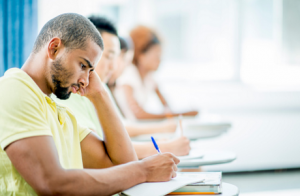 with the representative, note if a foreign accent is obvious. Sometimes, a 'chat now' feature may be available on the website. A representative or writer that can't write a sentence in proper English indicates that the company is located in a non-English speaking country.
Check if the website copy is in fluent English
A well-designed website is a must for all companies that provide essay writing services. Apart from that, the website copy is expected to be written in fluent English. The authentic ones often take time to craft and edit their copy carefully. This applies to all other pages on the website and not just the landing page.
Both positive and negative reviews about essay writing companies are always available online. They are composed by people who have used their services. Be wary of companies with more negative reviews than positive ones. In addition, check if there are recent testimonials dropped by real and satisfied customers.
Avoid companies with multiple websites
These fake companies have scores of websites with web addresses that are totally different. To the unsuspecting students, they are not the same. This is a ploy to convince them that they are dealing with another company entirely. Along the line, the fake websites are then used to provide the same writing service. A student can be scammed more than once by just one company if care is not taken. They also create misleading essay review websites and social media accounts with massive followers.
Look up their WHOIS information
Some essay writing companies normally make false claims like telling customers that they have been around for several years. You can easily confirm some of the company's important information like the age of the company and website on WHOIS. After checking, if what appears there is different from what's on the website, stay away from such companies.
The abundance of free digital tools have made it easier to detect plagiarized essays in few minutes. With these tools, students are now able to quickly decide whether an essay is of high quality or not before going ahead with payment and submitting.
Staff Writer; Bobby Foster