Everything You Need For The Perfect Man's House.
(ThyBlackMan.com) Have you ever thought about what your dream home would look like. We have, and we think we've got some ideas for all the best features that you would need. But we're not going to stop there. We also want to think about how to achieve this dream home that we all secretly want. But let's start at the beginning. What is the most important feature every guy needs in his house?
A Gym
Who has time to travel to the gym every other day? We imagine not very many people. It's probably the reason that you tell yourself you don't exercise. How can I exercise when the gym is so far away, you say. I'd have finished my exercise by the time I get there, you protest. But there's a simple answer to this conundrum, and that's the home gym. If you want to make sure that you exercise regularly you need to set a gym up in your house. This is easy to do, and you can start by buying some second-hand gym equipment online. To get all the equipment you need, it will probably only cost you a couple of hundred. Once you have that, choose a room to set it up in.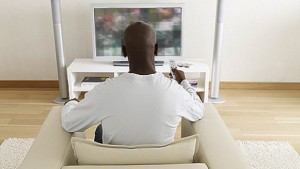 We advise you choose a room on the ground floor. Particularly, if you are buying weights. A cleaned out garage would be the ideal location, cool enough that you can work up a sweat without feeling uncomfortable. You could have your home gym set up in less than a week ordering online. What else should every guy have?
A Swimming Pool
Oh come on, you know you want one. Imagine completing your workout and then diving into a deep aqua blue pool. Or swimming a couple of lengths before work in the morning. It's everyone's dream, and we're not just talking about the guys. We're sure your partner and kids would love it too. What's stopping you having this feature? We'd imagine it's probably the cost and we can't say that we blame you. After all, to get a home with a swimming pool you're looking at spending a lot of money. Unless, you build it yourself. This is perhaps the best way to get the perfect man's home. You can speak to a home building company and get them to design it within your budget. That way you could have the gym and the swimming pool. Roe Builders come highly recommended, and you should check out their portfolio online.
A Home Theatre
Robert Downey Jr has one of these in his house. Nope, we're not talking about a TV home theatre set up. This is the real deal with cinema chairs and a massive screen across an entire wall. If you want to cut the costs of going to the cinema this year, build one in your home, yourself. Unless you're going to build it into your new home, we imagine you'll have to extend one of your current rooms. You'll also have to break through the ceiling and combine two rooms into one. That's before you buy any of the tech. But imagine being able to watch Batman V Superman in September on the biggest screen in your neighbourhood when it's out on Blu-Ray. We think you'll agree the cost is most definitely worth it.
They're the three features we think every guy would love to have in their home. Which one's do you want in yours?
Staff Writer; Doug Foster