Hitting the Dusty Trail: Why You're Never too Old to Go Off-Roading.
(ThyBlackMan.com) Off-roading is often thought of as a young person's activity, but this could not be further from the truth. In fact, many older people enjoy going off-roading in Canada every year, and if you can drive, you can enjoy it. Here are some tips for elderly people who want to enjoy hitting the dirt trails of Canada.
Why Is It Suitable for Older Drivers?
Although many people may assume off-roading is not suitable for older drivers, there are many great reasons to get behind the wheel.
For a start, it's a lot kinder on your body than hiking or other physical activities, and many would agree it's more fun. You have the time and the resources to enjoy yourself more than you did when you were younger, and you may be more able to invest in that perfect off-road vehicle you've always wanted, like Jeep's 2016 Renegade.
It's a great way to spend some quality time with a friend or partner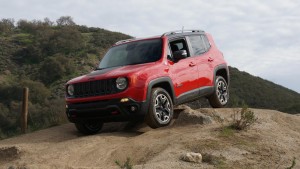 , and it's an activity that you can enjoy in relative comfort in your high-quality vehicle. It will also get you out and about to enjoy the great outdoors, and you can go wherever you want. You could even take the grandchildren along for an adventure!
Choose a Suitable Vehicle
First of all, you will need to invest in the right vehicle. If you do not have much experience of off-roading, you might want to rent a vehicle for your first time, but after that it's time to buy one.
A Jeep is the perfect option. You'll be comfortable, you know you can go anywhere, and you will be able to enjoy the true off-road experience. A high-quality vehicle suitable for off-roading will also minimize the chances that you'll end up in difficulties, which can be important when you are an older driver.
Go with Someone Else
This is good advice for anyone, but it's even more important when you are older. If something happens like getting stuck, having someone else around is going to really help, and this is especially important if you plan on tackling some more extreme areas.
It's also a good idea to read up on some general off-roading tips if this is your first time so you can be sure you are prepared.
Plan Your Route
Always plan your route in advance, while giving yourself a bit of leeway to explore along the way. There are so many beautiful areas to explore, whether you are looking for mountains, rivers, or forests. But you don't want to get lost, so have a planned route in mind and let someone know where you are going.
You may want to check out some of the best off-roading trails in Canada to get some inspiration.
Take Your Phone & GPS
It's a good idea to take your cellphone and a GPS unit with you, just in case. You don't have to plan to use it, but it can be very useful if you end up needing assistance. You may also want to take along some blankets and food in case you end up getting stuck and you have to spend the night out.
Enjoy the Thrill of Off-Roading
There is no reason why you shouldn't enjoy off-roading even if the years are getting on a bit. Keep these tips in mind, and also remember to keep your vehicle in great condition to reduce the chances of anything going wrong, and many off-road adventures await you no matter what your age.
Staff Writer; Ray Jones