Michigan QB keeps getting called a nigger and The University is silent.
(ThyBlackMan.com) Johari Shuck is an expert on black athletes at the collegiate level. She is also a graduate of The University of Michigan, one of the most storied athletic programs in the country. The school has a strong track record of athletic and academic achievement, but when it comes to the treatment of its athletes, the school's record is the source of eternal shame.
A full 20 years after the Fab Five earned millions of dollars for the school, the same racial animus from the early 90s is being thrust onto black players who don't perform to the fan's expectations. Michigan quarterback Devin Gardner recently revealed to USA Today that he has been called the n-word more times than he can remember, yet the school has remained virtually silent on the issue.
It's time to start asking the hard questions:  If Devin were gay, Jewish or a woman, would the school still allow for this kind of abuse from fans? Also, what does this say about the way college athletes are treated in general?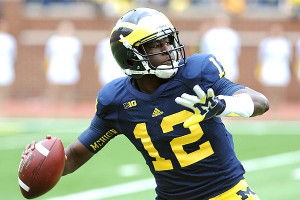 boyc NCAA athletes earn more money for their schools than the NBA, NFL and Major League baseball. In addition to being uncompensated, the athletes are the target of numerous human rights and labors rights violations that would be unheard of in nearly any other industry.
The African American community has been hit the hardest by the borderline criminal behavior of the NCAA over the last 60 years, with nothing short of a full billion dollars per year being extracted from the black community each year by this professional sports league that runs off of unpaid labor.   At the very least, these athletes should be able to get a good education without being distracted by too many practices and being called n*gger when they don't perform up to the expectations of people who won't even pay their families a living wage.
Even people who are paid on their jobs don't have to deal with being called out of their name, so why does U. Michigan feel the rules should change for unpaid college athletes? Would they allow a faculty member to be called a n*gger every day at work?
Shuck has a lot of good things to say about all of this. I hope you'll check out the conversation.
Staff Writer; Dr. Boyce Watkins 
Dr. Boyce Watkins is the founder of the Your Black World Coalition.  For more information, please visit http://BoyceWatkins.com.