Detroit; Big City for Sale.
(ThyBlackMan.com) I remember when Vice President, Dan Quayle said we should be glad that foreigners are buying properties and land in our country; "America is for sale," he said. I guess he was correct, considering what we have seen over the past 25 years, especially what we see going on in Detroit now, where the most powerful person is the bankruptcy judge. It looks like the Chinese people want to get in on the Detroit property bonanza, along with many other Detroiters and Michiganders, of course. One person bought 428 homes for $379,100, and some are buying individual homes for as little as $500.00 each. According to the Detroit Radio website, "In Wayne County's 2013 auction, nearly 20,000 properties hit the auction block – about 90% of them in Detroit. Some could be had for as little as $500."
Since Detroit filed bankruptcy, and even before then, property in that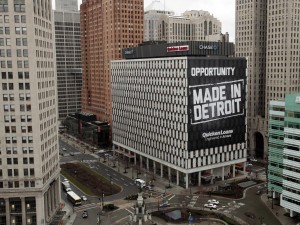 town has been selling at an unprecedented pace. No one can blame folks for speculating and buying the land; we know Detroit will come back and once again be a great city. For Black folks, however, who comprise as high as 90% of the population, it will mean even less control of the economics of that town, despite occupying much of the political strata. Is this a microcosm of Black folks in general?
Surely Black people are buying some of the property too, but at the rate and volume others are buying it, including Chinese buyers, the Motor City is definitely in for a major transition as it emerges from bankruptcy. But as the sayings go, "Money talks" and "He who has the gold makes the rules."
Much has been written about Detroit's bankruptcy, but the bottom line is that it is being sold. Articles abound about China buying Detroit; some say it's true others say not true. Forbes wrote a piece in December 2013, titled, "China's newest city: We call it Detroit," in which was stated, "Detroit, broke with almost no prospects for recovery, is the fourth most popular U.S. destination for Chinese real estate investors." If the buying spree keeps up, there is no way Detroit won't recover; folks aren't investing their money to take losses.
My Quayle memories notwithstanding, a little common sense tells me that America is for sale—to anyone who has the money to buy it, but my memory of the proposed "Maroon City" by former Detroit resident Dr. Claud Anderson, still haunts me. In 2005, during the comedic reign of Kwame Kilpatrick, Claud was quite prepared to develop a Black economic enclave in the heart of Detroit, but the Mayor and a few of his cronies decided that would be "racist," "divisive," "a suicidal form of 'reverse racism,' and a bad deal for Detroit," despite the existence of other ethnic economic enclaves in that Chocolate City. Black folks said those things, not Whites.
Fast forward to today, and we see a continued movement by everyone other than a major contingent of Black people buying Detroit properties. I wonder how Detroiters feel about Dr. Anderson's plan now as they watch the economic takeover of their city. Anderson, along with the support of Joann Watson, Kwame Kenyatta, and hundreds of citizens, were desperately trying to do what others before them had attempted.
In 1968, Detroit icon, Albert Cleage, said, Cleage and Black madonna "…This marks a new day for black people… The black community… must control its own destiny… this means political control of all areas in which black people are a majority… Politics is only one aspect, however. It is also necessary for blacks to have economic control of their community. In Detroit we are trying to invent strategies for this, such as the development of co-op retail stores, co-op buying clubs, co-op light manufacturing, co-op education…These ventures will give black people a sense of their economic possibilities and a realization of their need for economic training." The "Black Madonna" must be weeping right now.
While we have a tendency to revere folks like Cleage and Anderson and drop their names from time to time, we seldom follow their lead, as Carter G. Woodson said about Black folks in his book, The Mis-Education of the Negro. We love symbolism more than substance.
So as the sale of Detroit continues, I pray Black folks will carve out a significant piece for themselves in the city they have supported and built up for decades. If they don't capture this latest opportunity, Detroit will come back and Blacks will continue to be the fodder from which the wealth of other groups will be generated. Black people may indeed hold on to the politics, but the more important ingredients, economic control and ownership, will be in the hands of others, thus, maintaining a system of dependence by Blacks upon those who own the assets.
Written By James E. Clingman
Official website; http://www.blackonomics.com/