Jay-Z, Barack Obama, and Drugs.
(ThyBlackMan.com) I was perusing YouTube this holiday weekend as I typically do in lieu of actual television these days.  A well subscribed YouTube account is better than any cable or satellite package that you can dream of. The data connections built through subscription provides you as a user with viewer suggestions in concert with your past views which are custom made for you.  YouTube is now fully social.
My YouTube Home page suggested an interview given by New York MC Jay-Z to Radio Host Howard Stern.  Stern was impressively knowledgeable about Jay-Z's life having read Jay-Z's autobiography, "Decoded".  It was revealed during the interview that Jay-Z had spent a considerable amount of time with Barack Obama as the then Senator and yet to be Presidential candidate chopped it up with Mr. S. Carter for hours.
I've been aware of the Obama/Carter connection for some time now, but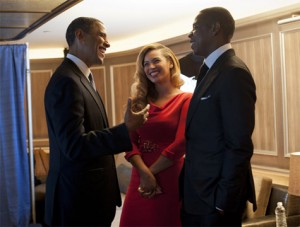 never really gave it that much thought until viewing this particular interview.  What was impressed upon me was that the former drug-user is now the current sitting President of the United States, while the former drug-dealer was a multi-millionaire entertainer and businessman.  Both of these men engaged in the very same behavior that has landed many of our fathers, brothers, and sons in prison as chattel slaves.
I say that to say this:  only one of these men is still hypocritically prosecuting Richard Nixon and Ronald Reagan's War on Drugs also known as the War on Blacks and Latinos.  I conjure this contrast between the drug seller and the drug user in order to affirm that the War on Drugs is an utter and literal failure with consequences as significant as the possible early elimination of President Barack Hussein Obama and the nullification of the career of one Sean Corey Carter professionally known as Jay-Z. 
One false move and both of these men could have been dead or in jail.  Barack Hussein Obama needs to consider this very carefully as his Justice Department considers moving forward with prosecutions against Colorado and Washington in opposition to popularly passed legalization of recreational marijuana possession and usage. 
He needs to carefully consider the effect of the growing Prison Industrial Complex and of how it slaves out black men to corporations like BP in Louisiana.  He needs to carefully consider the future of the Democratic Party for we, African-Americans; aren't taking it anymore.  Respectfully speaking, end the war now Barack.
Jay-Z on Howard Stern: 
Staff Writer; Darrick Herndon
For more thought provoking articles by this writer visit; blackfrankluntz.
Double-Axe Digital Recording; http://akzgang.blogspot.com/  
More Articles: