Robert Griffin III, ESPN Rob Parker blackness comments.
(ThyBlackMan.com) Washington Redskins quarterback Robert Griffin III (aka RGIII) has been asked to respond to those who wonder if he's "black enough."  As if we need more of this conversation in the black community, a commentator on ESPN chose to take Robert Griffin III to task, wondering if he's as black as everyone else.  Robert Griffin III is, after all, engaged to a white woman and could easily be a white guy if you changed his skin complexion.  But does anyone have the right to question a man's ethnic authenticity?
The remarks in question were made on the ESPN show "First Take."   A black commentator by the name of Rob Parker called out Robert Griffin III, asking: "Is he a brother, or is he a cornball brother?"
After saying a few words that might make ESPN execs take his black behind off the air, Rob Parker continued:
"He's not real. OK, he's black, he kind of does the thing, but he's not really down with the cause," Rob Parker said. "He's not one of us. He's kind of black,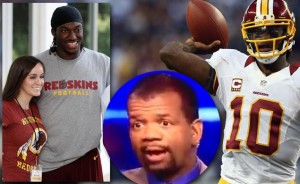 but he's not really, like, the guy you want to hang out with because he's off to something else.
"We all know he has a white fiancee. There was all this talk about how he's a Republican … Tiger Woods was like, 'I've got black skin but don't call me black.'"
Robert Griffin III said that he won't respond to the remarks, which were met by angry reactions from his (admittedly mostly white) supporters.  Then, Griffin's father spoke up for his son:  "I'm thankful for a lot of things in life and one of those things is your support. Thank you."
Of course, when black people get too outspoken, that's when massa steps in.  ESPN spokesman Mike Soltys told USA Today that Rob Parker's remarks "were inappropriate and we are evaluating our next steps."  Translation:  "You may not see this negro on the air for a really long time.  We are going to now go out and find more appropriate black people to replace him." So, Rob Parker is going to get even more of the black experience by learning what happens to black men when we go onto predominantly white media outlets and express our true opinions on touchy racial issues.  That's one of the reasons you see me spending more time developing my own platform than trying to get onto someone else's.
Robert Griffin III then spoke up on his right to be a black Republican engaged to marry a white woman, and how this has nothing to do with his being black.
"He needs to define what 'one of us' is. That guy needs to define that," he said. "I wouldn't say it's racism. I would just say some people put things out there about people so they can stir things up.
"Robert is in really good shape on who he is, where he needs to get to in order to seek the goals he has in life … so I don't take offense."
Robert Griffin III to continued later to say that he doesn't want to be defined by race.  Perhaps he's seeking to be post-racial.
"You want to be defined by your work ethic, the person you are, your character, your personality," he said. "I am an African-American in America. But I don't have to be defined by that."
Those speeches sound pretty good, until something goes wrong and folks start to turn on you.  OJ Simpson used to give those same speeches 25 years ago and later learned what happens when you're no longer the golden boy.  While Griffin certainly has latitude to express his blackness in any way that he sees fit, he'd be wise to remember that the reason thousands of fan cheered when he proposed to his fiance on the field is because he is an athlete with millions of dollars in earning power.
There is a thin line between enjoying the broad diversity that comes with various forms of black expression and simply using this as an excuse to avoid the common experience of millions of black people across America.  Robert Griffin III and many other black athletes are fed access to a polite little Lala Land that other black men can't access, and sometimes, the intoxicating sound of white people cheering your every move can make you psychologically disjoint from the challenges faced by millions of black men across the country.
So, Robert Griffin III's measure of blackness, arguably, is not just defined by what he wears, how he speaks or who he's engaged to marry.   It can be measured by whether or not he cares anything about the rest of us.  The commentator was off-base by asking this question in the first place, but I am admittedly curious to see how Robert Griffin III responds.
Staff Writer; Dr. Boyce Watkins 
Dr. Boyce Watkins is the founder of the Your Black World Coalition.  For more information, please visit http://BoyceWatkins.com.
Share
More Articles: