Interview; A Poet Reminisces about the Furious Flower Poetry Center.
(ThyBlackMan.com) The Furious Flower Poetry Center at James Madison University is one of the leading organizations that acknowledge the importance of poetry and the wordsmith. Through education, lectures, and special events, the organization's mission has been to expose students to African American poetry to students. Guest poets who've attended the event in the past include Kwame Alexander, Nikki Giovanni, Frank X Walker, and Crystal Good. Participants are encouraged to read work by poets, attend forums, and network with other like-minded individuals. QBR Black Book Review had the opportunity to speak with Kwame Alexander about his experience as a poet and connection to the summit. 
When did you know you were a poet?
It was mother's day. I was 12 years old. I didn't have any money for a gift, so I wrote a poem. Looking back on it, it was a terrible, terrible poem. It misbehaved on all fronts. But, my mother was not a poetry professor, so she loved it. It brought tears to her. At that moment, not being a very cool person in the eyes of pretty much every girl in school, I realized if I can have this type of impact on girls with a few words, then this poetry thing might be for me. Of course, later when I'd get to college, still writing mediocre-at best-poems for my crushes, I'd be taught how to write better by Nikki Giovanni. Suddenly, I found myself asking how could I write words that changed the world. Poetry was the answer.
What book influenced you in your journey, and how did you use it during moments of questioning life?
That's like asking which kiss was the best in your life. Or, which fruit do you like to taste the most? It depends on the mood, on the day. If only there was one book. "And The Sun God Said That's Hip," a children's picture book by Poet Ernest Gregg, was my favorite book to read, and be read to, as a child.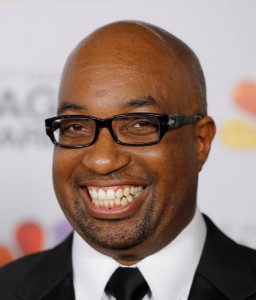 When I got older, I wrote a poemsong (for a girl, of course), called "Soul on Fire," and the hook was, "And the Sun God Said." Haki Madhubuti's "Book of Life," and "We Walk the Way of the New World," contained poems that I tried to mimic all throughout my college life. His ability to speak volumes of black truth in pithy poetic witticisms was inspiring and brilliant. At least once a year, for the past 20 years, I read Langston's Jess B. Simple stories. And, of course, reading "The Temple of My Familiar," by Alice Walker and "Family," by J. California Cooper always gave me an idea of the kind of familial love and mystery that I've always tried to incorporate into my writing. With that said, I will add, that as writers, we are always questioning life. We only stop, when there's no more life to question.
What led you in the direction of working with kids?
It started kind of as a fluke. I was invited to read poetry to a group of high school students at an "alternative school." This was right out of college, and I didn't have a lot of money. Actually, I had none. So, the school offered to pay me to do this. I was quite excited. And, when I arrived at the school, and the students were screaming, singing loud, and fighting in the classroom, I was completely scared. When the teacher introduced me as the guest poet, no one cared. Heck, she didn't even really care. I knew I needed that money they were paying me, to buy groceries for the week. In that moment, I had to figure out how to connect with the students. And, so I danced naked on the floor. I took a risk, and just put myself out there. I read and recited, loudly, poems that spoke to them—poems about Tupac, poems about love—and within ten minutes, the whole room was quiet. Afterwards, the kids came up to me and told me how glad they were that I'd come and talked to them. They didn't want me to leave. I don't know if I changed the world that day, but some of those kids saw the world a little bit differently that day, all because of the power of words. I knew then that part of my life's work was using words to change the worlds of young people. That was in 1992.
On your website it states that your "papers" are housed at the George Washington University Gelman Library…can you elaborate on why you did this so early in your career, and the importance of archiving and donating your work to a scholarly institution?
When they called and asked if I would donate my papers, I called my Dad, who is a Ph.D from Columbia. He about had a conniption. He told me that, without hesitation, I should say yes. The funny thing is, like my father, I keep everything—notes, napkins, papers, manuscripts, letters, receipts, etc. It just so happens, that at the time, my wife and I were very close to throwing away the garage full of stuff—programs from the National Black Arts Festival event with Gwendolyn Brooks, draft one of my first book, poems, emails from Ethelbert (he's a great communicator), etc.)—when they called. It was a no brainer. Recycle all of this paper and save the planet, or donate all of this paper, and maybe save my story so that when some student is writing about black poetry in the 20th and 21st century, they will have access to the email exchange between Kalamu ya Salaam and myself deciding to produce 360: A Revolution of Black Poets in 1998.
What was your inspiration for writing, Acoustic Rooster? 
Well, the first thing is that I stole all of my Dad's jazz records: His Coltrane, Duke, Miles, Ella. So, over the years, I've listened to and loved America's music. When my daughter was born, I'd play Ella and Nancy to quiet her down during crying spells. It worked like magic. The idea for the book came to me one morning in Virginia Beach, VA. As it happens, there was a group of birds "singing" outside my window, and it got me to wondering what if birds could really sing. What if they could play instruments? And, if they could what kind of music would it be. Naturally, it would be jazz. That was the initial spark for the story. And then, on a trip to Tuscany, with eight writers, I was able to fine tune the idea after an encounter with about twenty roosters on a gravel road, and Acoustic Rooster and His Barnyard Band was born. Of course, there was some higher power at work, 'cause I don't even remember how I came up with names like Thelonius Monkey and Ella Finchgerald.
As an advocate for literature what are your thoughts about the Furious Flower Poetry Summit?
I was at the first Furious Flower conference back in the 90s. My first book had come out. What Joanne Gabbin has done is nothing short of phenomenal. To have a repository—video, text, audio—of black poetry resources; to create a venue for the development of wordsmiths; to foster a family of black poets, in the tradition of Gwendolyn Brooks, means that young people from here on out, will be able to experience and explore the power of a people's literature that is life-giving and life-saving. I applaud and support what she has done for the canon, and for the community. And that is no small feat.
Does this conference reflect what you do with your BID publishing program?
Book-in-a-Day is about empowering young people to take ownership of their creative lives, by publishing books. The conference is about inspiring young writers, and giving them the tools to offer something meaningful and significant to the reading public. So, I think we have similar missions.
What are your currently reading?
Silver Sparrow by Tayari Jones, Under the Mesquite by Guadalupe Garcia McCall, The Fault in our Stars by John Green, and basically anything I can find by Percival Everett
What do you have up-coming that you want the audience to know about?
I have a YA novel, called The Silent Treatment, coming out in 2013, a few new picture books, and a middle school novel, called The Crossover, that is going to be a game changer in getting boys excited about reading. Finally, I am taking eight writer/educators to Brazil this summer, to participate in a fellowship I created in 2010.
Kwame Alexander is an example of what it takes to raise a village in society today. By acknowledging the talent that was bestowed upon his life, he has found a way to share it with others, and profit at the same time. Take a step back, and read a poem this month by a poet that you do not know. And while you're at it, visit the Furious Flower Poetry Center online and see how you can benefit from their programming.
Furious Flower Poetry Center online: http://www.jmu.edu/furiousflower/
Kwame Alexander online: http://www.bookinaday.org/
Associate Editor; kYmberly Keeton
To learn more about this talented writer feel free to visit; Kreative Young Millionaire, Inc….
Need a website or blog? Head over to; Kym K Balance Network.