Lebron James NBA Champ or Villian still.
(ThyBlackMan.com) By mid summer NBA fans from all over the world will have to find a new bad guy to jeer because Lebron James, like it or not, will be a league champion. The Miami Heat are up three games to one over the Oklahoma City Thunder and as every talking head, sports website and newspaper (remember those) has let us know, no team has ever lost in a NBA finals after being up three games to one. The way the last two games have gone this series I don't why that streak won't continue.
Lebron James made some mistakes, alright he made a lot of mistakes with "The Decision" but it seems to actually have been a pretty good, uh, decision after all. The Miami Heat are playing in the second consecutive finals and will most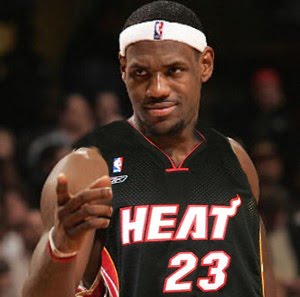 likely come away with a championship. With that hurdle comfortably leapt, I believe we it's time for America and the rest of the basketball viewing public to lay off the man. Here's why?
With three Most Valuable Player awards, Lebron James has proven that he is the best player on the planet in terms of talent and hardware. The only thing missing on his resume is a championship. If and when that gets checked off of his list (and it's really supposed to just be his list and not ours) there really can't be any complaints remaining about what can arguably be one of the top 10 best careers of all time. And he's not even 30 years old yet. Enough is Enough.
The three pointer he hit late in game four that put the Heat up for good was as clutch a shot as has been hit in the NBA finals. The fact that he was suffering from leg cramps makes it legendary. One of the major knocks on Lebron James was his lack of a "clutch gene,"  whatever that means.
Every game he steps on the floor proves he has guts. name another player in the history of the game since the late Wilt Chamberlain retired that had more pressure to perform than Lebron James. I'll move on to my next point while some of you ponder the impossible. 
Finally, why not hate players that actually whine about their coaches (Dwight Howard) or complain about wanting to be traded (Dwight Howard) or have not won anything at all (Dwight Howard and a host of other players but I rather highlight Howard at this particular moment thank you very much).
Lebron James plays hard and has won everywhere he has been-Cleveland actually won 66 games one season. Cleveland.-and is still winning while averaging over 30 points, 11 rebounds and four assist during the finals. Finding something wrong with the way Lebron James is playing is like noticing a nose hair on the Mona Lisa. That's besides the point.
So come on America get ready to start researching some bad guys, Dwight Howard for example. It's a suggestion.
Staff Writer; Donnell Suggs
One may also connect with this talented writer via twitter; Suggswriter  and also facebook; D. Suggs.