Top Ten Holiday Survival Tips for the Single Guy with Kids…
(ThyBlackMan.com) It's that time of the year again, mistletoe, holiday cheer, Christmas trees, beautiful lights and most importantly, presents.  If you are an engaged, devoted, loving single dad, you will definitely come face to face, often, with your children's mother. No matter how long it has been since you separated, ain't no mountain high, ain't no valley low enough, to keep you and your ex from interacting during the holidays if you have children together.  Whether it is a ten-minute phone conversation or an in person encounter, you run the risk of clashing with your ex during the holidays if you are not careful.  Here are top ten survival tips that will keep your holiday season merry and happy for you, your children and the entire family:
1. Call before you show up. Don't wait until you are on the road to pick up the kids to call their mother. You cannot assume that everyone remembers the holiday schedule, least of all a single mom. Get in touch with the kids and their mother before you hit the road, and ask the kids to be ready when you get there…that is so you will not spend too much time inside or waiting for the kids outside in the car.
2. Establish drop off and pick up etiquette. Don't invite yourself or allow the kids to invite you into your ex's abode. Discuss that in advance if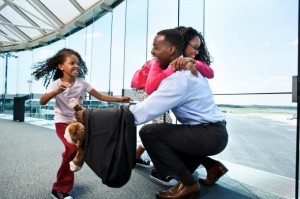 necessary with their mom. If you normally go inside, do so, but keep in mind that whatever pattern you develop should be flexible enough to adapt to any other relationships either of you have in the future.  Once inside, stay focused. Don't comment on or criticize anything. Get the kids and keep it moving.
3. Announce your new date.  If you have to break the news to the kids that you have a new significant other, do it before they meet her and preferably not on Christmas.  Reassure the kids as early and as often as possible that their relationship with you will not change. If you bring the new Ms. Single Dad along when you pick up your kids, leaving her outside alone in the car will likely go over as well as brining her inside your ex's house without making sure its OK before you arrive. Either way, this is usually tough for the kids. Tread carefully, and go easy when you break the news about a new love.
4. Secret Santa. If your ex has kids, do you help your child buy gifts for their other siblings? Do you help child your child buy a gift for their mother/your ex? Think about it.  Your child will want to get gifts for everyone in his or her family, most of all Mom. Kids will feel terrible if they don't have gifts for the other members of their extended family. Support your child in their gift giving without prejudice. Help your child make gifts or get small meaningful mementos that are appropriate and reasonably priced. P.S. If you are trying to get back with your ex, this is not the time to give her diamonds by way of your 6-year-old son. It may be your dine, but do that on your own time. Putting the kids in the middle of your relationship whatever your intent isn't fair to them and can be very confusing.
5. Plan, plan, plan. Don't wait until Christmas to plan out your holiday celebration. Include meals in the celebration.  Add fun items and toppings like whipped cream, Christmas cookies, toasted marsh mellows in the fireplace, hot apple cider and other foods that make the holidays special. Childhood obesity is a serious concern, so keep watch on the sugar and carbs and plan a football game or a snowball fight so the kids don't return home packing gifts plus ten extra pounds.
6. Create a Family tradition. Creating memories is one of the best things to do with your kids. Look for inexpensive ways to enjoy all that your city offers. Whether it tree-trimming, ice-skating, roller-skating, bowling, or a local concert, play etc., doing something every year with the family is something the kids will cherish forever.  So will you.
7. If you have to work while the kids are with you… don't.   Whether you are an entrepreneur or you work for a Fortune 500 company, take a vacation. Get that vacation request in early so you can spend quality time with your kids. Of course you have to keep food on the table so if you absolutely have to work, find a reputable babysitter that you can trust, and plan out the kids activities and meals for the day. When you get home from work, leave the football game off, put down your phone, and hang out, cuddle up, and talk to your kids. Allow for plenty of alone time with Dad, because this "time" is what will make the biggest impact on their lives as they grow older.
8. If the kids are NOT with you Stay involved. Little things help make the holiday run smoothly for everyone. Remember this is hard on the kids too. Figure out how to best distribute the gifts for the kids. Should you send the gifts to their mom's house? Should you take a trip over there to drop gifts off or just keep the gifts until you see the kids on your weekend? Think it through, talk it over with your kids and make it work. Consider splitting up Christmas Eve and Christmas day with your ex.  Maybe the kids will end their Christmas in the evening and come back to your place that night. Whatever you decide, make it painless so the kids can enjoy both parents over the holiday and not feel guilty about anyone being left alone or left out.  Reassure the kids that whatever you decide together is OK and that you are OK. Are you OK?
9. Talk to a professional. If you are feeling down, depressed or just having a rough time it is OK to see a professional to help you understand and work through your feelings. The holidays can be the most depressing time of the year. If you have a case of the blues you are definitely not alone. Whenever you see your kids, they will need you at your absolute best. And in case you haven't heard, real men see therapists.
10. Remember the reason for the season. Feed your spirit; renew your faith and your relationship with God. Celebrate yourself, your accomplishments and fatherhood. Give thanks for your children and your relationship with them, and count your blessings. Make this and every holiday an amazing one, you deserve it and so do your kids! 
Staff Writer; Cathleen Williams
This talented sister is also Host of: I'm Just Saying Talk Show, NYC and a publish Author: Single Mother The New Father, Volume 1 Sports.
Official website; http://www.cathleenwilliams.com