MFAH Calls For Entries To The 16th Annual CityWide African American Artist Exhibition.
(ThyBlackMan.com) The Citywide exhibitions are open to all artists of the African Diaspora in the greaterHoustonarea. Sponsored by the Museum of Fine Arts, Houston (MFAH) through Five-A (the African American Art Advisory Association at the MFAH), the annual Citywide exhibitions offer artists the opportunity to show their work to a broader public, and to the collecting community. The 16th Annual Citywide African American Artist Exhibition will be held from February 1—March 3, 2012.
The 16th Annual Citywide Exhibition will be juried by artist Floyd Newsum, Professor of Art, University of Houston Downtown, and artist George Smith, Professor Emeritus of Art, Rice University. The exhibitions at each venue will be curated by artist and curator Michael K. Taylor.
Call for Entries
Eligibility
• Participants must be 18 years of age or older.
• Participation is open to all visual artists of the African Diaspora living in the greater Houston area.
• Only original works of art will be accepted, no copies.
• Work in all media will be accepted. Limit (6) works per artist.
• All entries must be ready for installation. Drawings and photographs must be framed.
Prizes for Artists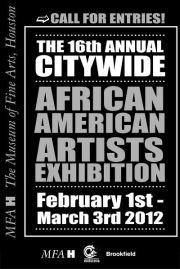 • 1st prize: $500 and a full scholarship for one studio art class at the MFAH Glassell School of Art
• 2nd prize: $250
• 3rd prize: $250
How To Enter

Step 1: By Saturday, January 7, 2012, send an email to Margaret Mims, 2012 Citywide Coordinator, stating your intention to enter, at mmims@mfah.org, or call 713-639-7587.

Step 2: Hand-deliver your entries (or arrange to have them delivered) to the Community Artists' Collective, 1413 Holman (at LaBranch) on one of the following days, no exceptions:
• Saturday, January 14, 2012, between 1:00 pm & 7:00 pm
•Sunday, January 15, 2012, between1:00 pm &7:00 pm

Step 3: All artists who submit work for the 16th Annual Citywide Exhibition will be notified via e-mail on Wednesday, January 18, which of their works has been accepted for the exhibition, and where it will be on view.
Opening Celebrations
Wednesday, February 1, 6:00—8:00 pm, Heritage Plaza Lobby (1111 Bagby)
Friday, February 3, 6:00—8:00 pm, The Community Artists' Collective (1413 Holman)
Prize Ceremony
Friday, March 2,6:00—8:00 pm,  The Community Artists' Collective (1413 Holman). All prize winners will be announced at 7:00 pm.
Five-A, the African American Art Advisory Association at the Museum of Fine Arts, Houston, was established in 1993 to enhance the museum's collection of African American and African art.  At the end of each year, Five-A uses its membership dues and other fund-raising proceeds to purchase major works for the permanent collection of the museum. In addition to sponsoring the work of acclaimed artists, Five-A also has championed artists history has overlooked. The support and guidance of Five-A has been instrumental in shepherding up-and-coming artists into the collection. Since its founding, Five-A has brought an impressive 44 objects into the museum's collection.
The Community Artists' Collective (The Collective) was conceived in 1985 by Michelle Barnes, artist, art educator and director of Barnes-Blackman Galleries, and Dr. Sarah Trotty, artist and art educator at Texas Southern University. The Collective was organized to meet the needs of professional African American artists with a special sensitivity to African American women artists. The Collective challenges local artists to make their own career decisions, to produce work which truly reflects their unique vision, and to work with our organization or other organized efforts to give back to the community from which they have emerged.
Citywide at Heritage Plaza Lobby is sponsored by Brookfield Properties.
For more information regarding submitting work to the Five-A arts exhibition log on to Facebook: https://www.facebook.com/events/211751065570986/
Or visit http://www.thecollective.org/citywide & http://www.mfah.org/programs-for/page/annual-citywide-exhibition/
Associate Editor; kYmberly Keeton
To learn more about this talented writer feel free to visit; Kreative Young Millionaire, Inc….
Need a website or blog? Head over to; Kym K Balance Network.