Heavy D, Patrice O'Neal, Chester McGlockton Black Men and Obesity…
(ThyBlackMan.com) Over the years, Jamie Dukes, a former NFL offensive lineman, has watched friends, former teammates and colleagues — most of them black men and all of them overweight — die from heart attacks, diabetes and other maladies related to their weight.
There have been seven teammates who he can name off the top of his head. All died before the age of 45. The list begins with Reggie White, the Hall of Fame defensive end who died the day after Christmas in 2004 of cardiac arrhythmia and sleep apnea. He was 43 years old and at least 100 pounds overweight.
White's death was a "scared-straight" moment for Dukes, who had ballooned to nearly 400 pounds after his playing career, full of years of burning excess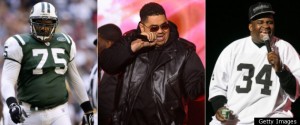 calories on the field and in the weight room, had ended. He had both high blood pressure and high cholesterol. And his doctors offered a grave diagnosis: morbid obesity.
Dukes had good cause for fear. A string of recent deaths of former athletes and entertainers, including the rapper Heavy D, the comedian Patrice O'Neal and former NFL All-Pro defensive tackle Chester McGlockton, highlight what doctors have called a full-blown crisis in the black community and specifically among black men: obesity.
"The biggest health care crisis we are facing as a community is the crisis of obesity," said Dr. Mwata Dyson, a health care consultant based in New York City. "We are behind the eight ball."
Obesity in the black community has reached epidemic levels, health professionals say. Thirty-seven percent of black men over the age of 20 are obese, according to the Center for Disease Control. The number is even higher for black women: More than half of black women in the same age group are obese. The excess weight can exacerbate other health conditions such as stroke, heart and cardiovascular disease, high blood pressure and diabetes.
And the economic costs of obesity are startling.
Overall obesity-related medical care costs in 2008 for U.S. adults were estimated to be as high as $147 billion, according to the CDC.
Dyson said the past decade has seen an obesity explosion in the black community, and that the number of obese African Americans — and all Americans for that matter — is expected to continue to climb over the next 10 years as well.
He said there are many reasons for the widespread obesity among black Americans, from misinformation about food choices and lack of access to fresh produce to a number of cultural factors, such as collective body image.
"Within the black community we appear to gauge being overweight as being sexy, as in this is just my blackness — We have hips and have curves and are not trying to be like these European models," Dyson said. "Heavy D was the overweight lover, which is fine for marketing and selling records, but unproductive for sending images that tell black men to live healthier lives."
Heavy D reportedly died of complications related to pneumonia. O'Neal died of complications related to stroke, and he had been public about living with diabetes. The reason behind McGlockton's death has yet to be determined, but since leaving the NFL he had struggled to maintain a healthy weight. In 2007 he underwent Lap-Band surgery, which limits the amount of food that one can consume. Toward the end of his playing career, McGlockton was listed at 335 pounds.
Dukes, who spent the majority of his 10-year career with the Atlanta Falcons, faced a critical moment when his doctor delivered his diagnosis: If he did not change his ways, he could die. The message rang crystal clear. He had friends who were dying off. His wife and children feared the worst. So he decided to take action. He started exercising again, adopted a healthier diet and controlled his portion sizes. In 2008 he underwent a procedure similar to McGlockton's. Since then he has lost well over 100 pounds.
Finish story over; HuffPost BlackVoices – African American Men Obesity, etc…
Also follow BlackVoices on Twitter; http://twitter.com/blackvoices.
and Facebook; http://www.facebook.com/blackvoicesdotcom.