Chris Christie Correctly Bows Out…
(ThyBlackMan.com) At a press conference in Trenton on October 4, New Jersey governor Chris Christie announced that he would not pursue the Republican nomination for president of the United States.  He made the right decision.  Christie's political star and presidential hopes had been on the rise for weeks prior as dozens of media personalities, from conservative pundit Ann Coulter to MSNBC commentator Chris Matthews to Saturday Night Live comics, shamelessly promoted Christie as the ideal Republican presidential candidate, a savior who could win in the mold of John F. Kennedy's dramatic capture of the Democratic presidential nomination in 1960, or Ronald Reagan's Republican presidential nod in 1980.  But Christie's record and "New Jersey problem" may very well have doomed his presidential prospects.
Perhaps out of a subconscious desire to move beyond the first Black president of the United States as quickly as possible, certain media talking heads cast Chris Christie as a heroic figure who could ride into the Republican primary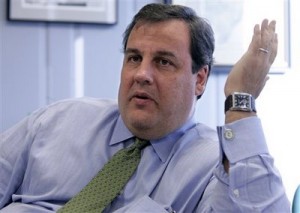 season on a white horse and save a lackluster Republican field from the imminent historical oblivion of electoral defeat.  But can the state of New Jersey, the setting of such low-brow television spectacles as Jersey Shore, The Sopranos, and Boardwalk Empire, realistically produce a viable candidate for the presidency of the United States?  A candidate possessing the sort of widespread, mainstream appeal that will be necessary to attract African-American voters in the general election next year?  Of course not.
In the interest of full disclosure, I confess that as a progressive New Yorker with at least a high school education , I have encountered New Jersey residents who at first impression, in my view, were racist, provincial, and lacking in civility and social graces.  Like many Americans, after watching The Sopranos, Jersey Shore, and The Real Housewives of New Jersey, I was confirmed in my first impression and I speculated as to whether or not there is something about New Jersey culture that promotes racism, provincialism, and a lack of civility and social graces.  And then there is that notoriously foul odor that offends the nostrils of anyone who has ever driven southbound on the Garden State Parkway.  Discounting New Jersey's image in the popular mind, however, Chris Christie was burdened by a New Jersey legacy of racism that while acceptable to ultra-conservatives, would have been unattractive to more educated moderate and independent voters , and that President Obama could have made political hay with in the national election.  So in all honesty I found the idea of any New Jersey politician in the White House, let alone Chris Christie, laughable, and I took Diane Sawyer's  inappropriately impassioned queries about Christie's campaign plans with a grain of salt.
My high-school-diploma-elite sensibilities and Hollywood's depiction of New Jersey residents as rubes aside, had Christie run for president, he would have risked sabotage at the hands of the Republican party establishment over his weight problem, or would have had to cope with New Jersey's record of racism and corruption, or his own unimpressive record among organized labor and the African-American community —negatives that would have surely sank his presidential aspirations and damaged the credibility of the mainstream news outlets clamoring for his candidacy.
New Jersey has dealt with a spate of public corruption scandals and allegations of racism since the Christine Todd Whitman years.  In February 1999, New Jersey State Police Superintendent Carl Williams was fired after controversy erupted over allegations of racial profiling by state troopers on the New Jersey Turnpike.  Williams had the audacity to sue Governor Whitman and the New Jersey Attorney General for wrongful dismissal and reverse discrimination, even after he was quoted in The Star-Ledger sanctioning the practice of stopping motorists based on their race.  Williams' reverse discrimination lawsuit was dismissed in August 2000.  In October 2007, a federal discrimination lawsuit was filed against the city of Hoboken by five Hispanic police officers alleging they were subjected to racial slurs and racially motivated harassment by the Italian-American commander of their unit, Lt. Angelo Andriani.  The lawsuit made national headlines when controversial photos of Andriani donning a mock Ku Klux Klan hood fashioned from a table napkin and cavorting with bare chested Hooters waitresses surfaced on the Web.  The photos were taken during a department-sponsored trip to New Orleans to bring relief to victims of Hurricane Katrina.  Hoboken paid out $2 million to the plaintiffs to settle the discrimination claims against the city.  
Two years later in July 2009 the newly-elected mayor of Hoboken, Peter Cammarano, was hauled away in handcuffs by FBI agents after being caught in a bribery and money laundering sting operation.  Cammarano, who had spent a mere three weeks in office before his arrest,  pleaded guilty to accepting $25,000 in bribes from a federal informant in April 2010 and was sentenced to 2 years imprisonment in August 2010. 
These are just the noteworthy scandals in New Jersey's recent political history.  There have been hundreds of corruption probes and cases in New Jersey in the past twenty years.  Naturally, Christie campaign advocates would claim that he cannot be held liable for the actions of other New Jerseyites.  Perhaps not.  The crucial point to voters, however, that would have been seized upon by Democratic strategists, is that Christie hails from a notoriously corrupt state political system, an issue which rightly or wrongly, raises trustworthiness questions.  In running for president, a thus far squeaky-clean Christie could have been tarred with the same brush as recently disgraced New Jersey politicians and civil servants, as part of an all too common smear tactic used in national campaigns in this country.  New Jersey is a state that would have proven as much a liability to Chris Christie's election chances as the state of Alabama was to George Wallace in his 1968 presidential campaign.
Chris Christie would have faced an almost insurmountable problem garnering African-American support for a presidential bid.  In May 2010, Christie declined to reappoint the only African-American justice sitting on the New Jersey Supreme Court, John E. Wallace Jr., drawing criticism from the Trenton and Gloucester County offices of the NAACP, the South Jersey Black Political Caucus, and the Black Ministers Council.  Christie has also been a vocal critic of New Jersey school budgets and a formidable adversary to teachers unions, positions not likely to win him allies in African-American political circles.
Christie's record on New Jersey educational issues is equally unremarkable.  Christie has towed the Republican party line on the need for a reduction of collective bargaining rights, especially when it comes to teachers unions.  He has campaigned to end teacher tenure in urban public schools.  Meanwhile, the inner-city schools of Newark and Camden are as atrocious as ever.  The one bright spot in New Jersey public education during Christie's tenure, an anti-bullying initiative in the East Hanover school district piloted by the Morris County Sheriff's Office, is not spectacular enough to justify a Chris Christie presidential bid.  The program offers East Hanover students anonymity in reporting incidents of bullying as they may notify police through the Morris County Sheriff's "CrimeStoppers" hotline instead of reporting such incidents directly to teachers and school officials.  Students' tips to the police generate incident reports which are acted upon later by the school principal.  Although some observers have commented that the involvement of Morris County law enforcement in school bullying prevention is innovative, the fact is, teachers and school administrators in East Hanover and elsewhere throughout the country have always had an ethical, if not legal obligation to thoroughly document and report infractions of the state penal code to law enforcement regardless of the age of the offender: "bullying" in the form of violence, threats of violence, harassment, menacing, and range of other offenses would qualify as violations of the criminal law.  Sadly, it is only true to say that East Hanover school district employees neglected their ethical duties if law enforcement personnel were not involved in school safety before the recent anti-bullying legislation.
Chris Christie would also likely have faced staunch opposition to his presidential candidacy from within his own party.  Christie does not bring the support of any obvious constituencies to a potential Republican presidential campaign ticket, as do Herman Cain or Michelle Bachmann, ruling out a vice-presidential berth.  He could not have wooed big Republican donors away from Mitt Romney and Rick Perry as late in the primary season as he proposed to enter. 
Perhaps most importantly, Chris Christie could not have built the requisite campaign infrastructure of volunteers, ward captains, and media surrogates necessary to mount a successful campaign for the American presidency in the modern era without the help of the Republican party establishment, which has already indicated its preference for Romney in dozens of important ways, not the least of which was Republican National Committee chair (and former presidential candidate) Tim Pawlenty's very public endorsement of Romney. 
Had Chris Christie attempted to defy his party and challenge Romney, he risked certain defeat and marginalization on the national scene, much like another one-time Republican presidential candidate with a potential image problem – Rudy Giuliani.  After the dramatic and embarrassing collapse of Giuliani's 2008 presidential campaign in the Florida Republican primary, Giuliani went from a supposed 9/11 hero in the minds of some to a joke in the Republican party overnight.  He was relegated to the role of minor king-maker in the party – he weighed in on the prospects of other Republican candidates on Fox News Channel, and he offered the ultra-conservative wing of the Republican party the "red meat" they want to hear at their conventions – innuendo about "law and order" and having "cleaned up" New York City.  In this low-profile role, Giuliani's own record of alleged insensitivity toward the African-American and Hispanic communities of New York City was not likely to be a liability – but he will not likely ever be the Republican nominee for president of the United States.  Chris Christie could have suffered the same fate.
Another big obstacle to Chris Christie's presidential candidacy was his weight problem – no pun intended.  In an article published on September 29, Bloomberg View columnist Michael Kinsley writes,
"Unfortunately, the symbolism of Christie's weight problem goes way past the issue of obesity itself.  It is a just too-perfect symbol of our country at the moment, with appetites out of control and discipline near zilch.  And it's not just symbolism.  We don't yet know much about Chris Christie.  He certainly makes all the right noises about fiscal discipline and seems to have done well so far as governor of New Jersey.  Perhaps Christie is the one to help us get our national appetites under control.  But it would help if he got his own under control first."
Whether or not one agrees that Chris Christie "seems to have done well so far as governor of New Jersey" Kinsley captures a sentiment that likely would have been exploited by Christie's Republican rivals.  Perhaps the kindest word that may be said of Christie's gubernatorial record is that his performance has thus far been vastly better than that of his predecessor, John Corzine; however, even Chris Christie's record would have been eclipsed by superficial media scrutiny of his weight issues.
There is an old saying in American politics, "Democrats fall in love, Republicans fall into line."  Republicans could not afford to "fall in love" with a flavor-of-the-week candidate from New Jersey, of all places, during a presidential election season that may prove to be among the most contentious in decades, and the hierarchical structure of the Republican party does not allow for usurpers.  Christie's decision not to pursue his party's nomination for president of the United States may prove to have been the right one for Republicans and for him.
Staff Writer; David Christopher Steele, M.A.
Official website; http://www.facebook.com/steele.dave88