Three; Ways to Feel Happier Today…
(ThyBlackMan.com)  Is it one of those days?  Someone's not pulling their weight at work, leaving you with a heavier workload.  Or you ran late again, and started the day off on the wrong foot.  Your spouse said something that rubbed you the wrong way or you got some bad news.  Or maybe nothing   bad happened – you just don't particularly feel happy.  Whatever the case, improving your mood is something within your control. 
These three simple mood-boosters won't change your co-worker, your spouse, or the fact that life simply isn't going your way right now, but they will make you feel better while you're dealing with the stress:
1.  Write your "three best things."
Identify the three best things that happened to you in the last 48 hours.  It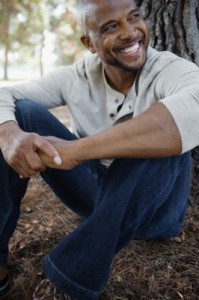 can be something really simple, like the fact that you found a parking space close to the door at the post office, or the kiss your child gave you before going to school this morning.  Gratitude immediately shifts your focus to the good things in your life.  Even when things are going badly, there is something you can find to be grateful for.
2.  Reach out to someone who makes you laugh, smile and feel great.
Laughter is merry medicine, the book of Proverbs says.  And it's true.  Being around positive people, especially those who know how to laugh and have fun, can be an instant pick-me-up.  Who is that person for you?  Stop by their desk. Call them up.  Make dinner plans.  Be intentional about spending time with people who make you smile.  And limit your time with those who do the opposite.
3.  Know what brings you joy and do it.
What brings you joy?  Whatever it is, find a way to incorporate it into your day today.  In the midst of a hectic schedule and back-to-back activities, it can be easy to squeeze out those simple pleasures, but don't.  Make them non-negotiable, especially today.
Written By Valorie Burton
Official website; http://www.ValorieBurton.com/