Hispanic Heritage Month – In Celebration Of The Afro Hispanic/Latinx Community.
(ThyBlackMan.com) Hispanic Heritage Month, September 15 – October 15, provides a special opportunity for educators, schools, as well as public and private institutions to focus on the many Hispanic/Latinx Americans whose lives and works have shaped the history and fabric of American society.
The land and countries where Spanish and Portuguese are the primary languages in the Caribbean, Mexico, Central and South America were originally inhabited by various indigenous Indians groups.  In the 15th and 16th centuries, Spanish and Portuguese colonists from Spain and Portugal brutally overran the indigenous Indians subjugating them to European conquest. Within a few years of the brutal conquest Spanish and Portuguese colonists brought enslaved Africans to work the conquered lands.  Approximately one hundred years prior to enslaved Africans being brought to the colonial US in 1619, enslaved Africans were brought to the Caribbean and South America.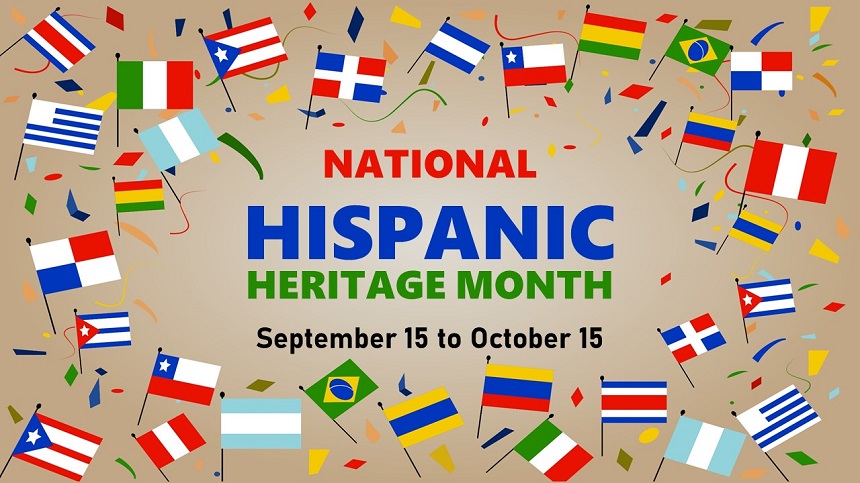 There were 11.2 million Africans who survived the Middle Passage and landed in the New World, and of that 11.2 million, only 450,000 came to the US. All the rest went south of Miami as it were. Brazil received almost 5 million Africans.
Brazil has the second largest Black population in the world. Black is being defined by people of African descent in the way that it is defined in the US. It is second only to Nigeria.
Other Hispanic/Latinx countries with large African populations today include Dominican Republic, Cuba, Colombia, Venezuela and Ecuador.
This mix of indigenous Indians, Europeans and Africans developed the rich history and culture of what is called Hispanic/Latinx culture. The African influence was significant and can be found in the customs, music, religion and other aspects of Hispanic culture.
Such popular dances and music as merengue, rumba, salsa, samba were heavily influenced by African dance movements and African music. Various foods and food dishes were transported from Africa by enslaved Africans. Santeria with its seven African gods is a series of religious practices of Bantu origins, brought by enslaved Africans to Cuba from Central Africa and practiced to this day in the Spanish Caribbean and US.
According to the US Census Bureau, the number of Afro Hispanics/Latinxs in the US has developed at nearly twice the rate as the population of non-Black Hispanics/Latinxs since the beginning of the century.
US Census data shows that there was a 121% increase in self-identified Afro Hispanics/Latinxs from the year 2000 through 2019. Also the data shows Afro Hispanics/Latinxs tend to be younger than non-Black Hispanics/Latinos. Their average age is 21.
It is estimated that there are 58.9 million Hispanics/Latinxs in the US. Of that total there are roughly 2 million Afro Hispanics/Latinxs.
Some of the many notable Afro Hispanics/Latinxs who have influenced and impacted US history and culture are:
1. Cuban music legend Celia Cruz "the Queen of Salsa".
2. Julia de Burgos, Puerto Rican poet who tackled the complexities of womanhood, social inequality, and feminism. She was a woman before her time who lived in the 1930s and died in 1953 at age 39.
3. Rosie Perez, actress who was one of the Fly Girls on In Living Color. She appeared in Do the Right Thing, White Men Can't Jump and many other movies.
4. Charles Rangel, former New York congressman who represented Harlem USA for many years.
5. Arturo Alfonso Schomburg, Puerto Rican historian, writer, activist and founder of the Schomburg Center for Black Research in Harlem USA.
6. Sammy Sosa, former Dominican baseball player.
7. Rosario Dawson, actress, activist and producer
8. Gina Torres, Cuban American—became the first Afro-Latina to star, create, and produce her own show Pearson, a spin-off of the long running legal drama, Suits.
9. Susana Baca, famous Peruvian singer-songwriter.
10. Sylvia Del Villard,  actress, dancer, choreographer and Afro-Puerto Rican activist.
11. Maxwell, Puerto Rican and Haitian American singer.
12. Amirah Vann, actress. Appeared on Queen Sugar and How To Get Away With Murder. Her mother is Puerto Rican and father is African American.
13. Piri Thomas, author of "Down These Mean Streets".
14. Sammy Davis Jr., singer, actor, comedian and dancer.
15. Zoe Saldana, actress.Guardians of the Galaxy star is of Dominican and Puerto Rican descent
16. Roberto Clemente, former Puerto Rican baseball player who is considered one of the best that ever played the game.
17. Pele considered the greatest soccer player of all time.
18. Elizabeth Acevedo, Dominican-American poet and author.
19. Miguel, Musician whose parents are Mexican and Black.
20. Lisa "Left Eye" Lopes, member of R&B girl group TLC.
21. Gwen Ifill, journalist of Panamanian and Barbadian ancestry who was the first Black woman to host a national political talk show in the US. She hosted PBS' Washington Week and co-hosted PBS NewsHour.
22. David Américo Ortiz Arias, "Big Papi", Dominican-American former All Star  who played 20 seasons in Major League Baseball.
23. Cardi B, rapper.
24. Alani Nicole "La La" Anthony, television personality and actress.
25. Miguel Cabrera, Venezuelan baseball player, two time AL MVP.
26. Orlando Cepeda, former Puerto Rican baseball player.
27. Miriam Jiménez Román, Puerto Rican scholar, activist, and author on Afro-Latino culture.
28. Sheila E., percussionist and singer.
29. Dascha Yolaine Polanco, Dominican-American actress. Known for portraying the role of Dayanara "Daya" Diaz in the series Orange Is the New Black, and for the role of Cuca in the movie In the Heights
30. Francisco Lindor, star shortstop for the New York Mets.
31. Tessa Thompson, actress (Sylvie's Love, Creed, Thor: Ragnarok) was born to an Afro-Panamanian father and mother of Mexican descent.
32. Juan Marichal, former Dominican baseball pitcher.
In celebration of Hispanic Heritage Month we honor and recognize the contribution of Afro Hispanics/Latinxs and all Hispanics/Latinxs. We join in solidarity in fighting for all who seek freedom, justice and equality.  La lucha continúa – The struggle continues.
Staff Writer; Al Alatunji
Question? Comment? Regarding the above article. Feel free to send a message to this address: Alatunji@ThyBlackMan.com.