What Happened To Georgia Governor Brian Kemp?
(ThyBlackMan.com) Before Georgia's Governor Brian Kemp became Georgia's governor, he served as Secretary of State. At that time, Greg Palast told us the story of who Brian Kemp was at that time. The article Palast wrote was Voting Gangnam Style: The New Kim Crow in Georgia. We already knew about Jim Crow. The article did not show Mr. Kemp in a positive light.  At that time, he noticed that Asian Americans had begun to register in big numbers and apparently, they were not expected to vote for Kemp's Republicans. Palast's investigation was on how Georgia's Secretaries of State had increased the old Jim Crow tactics against Asian Americans. He called it the New Kim Crow.  At the time, Asians were the fastest-growing population in Georgia and had been voting for Republicans, but something caused them to change their minds.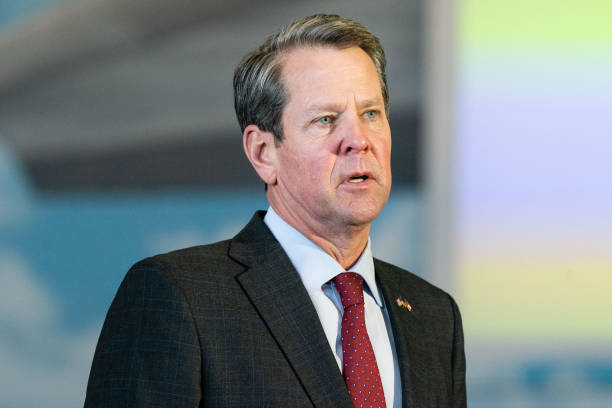 Just a note of intrigue! Asians began doing a new thing. They were registering Asian voters big time. They turned in the registrations and the Georgia Bureau of Investigation raided their office. Their registrations were questioned. Leaders of the voters registered was a woman who made copies of the registrations as a backup to know who had registered.  When she checked with the Office of the Secretary of State, the leaders were told there was no record of those registrations!  When they were told they had copies of the registrations, they were told that making such a copy was illegal!
What could be wrong? Well, along the way, Asians had fallen in love with a Democrat and they voted 73% for Barack Obama!  The influx of Asians suddenly voting for Democrats became a problem for Republicans. Stacey Abrams was running a great race, and she appeared to be well on her way to possibly becoming Governor. Now, guess who Secretary of State was and also hoping to become Governor—so Stacey's candidacy would have been a problem. Yes, the Secretary of State at the time was Brian Kemp!
Let's move all the way up to August 31, 2023.  Governor Brian Kemp suddenly became the sensible, logical politician (and we are glad he did), but his new position gave us pause when he sat at his desk, seemingly looking over a proposed bill from his legislature that would've attempted to remove Fulton County District Attorney Fani Willis from overseeing the prosecution of Donald Trump! Shocking to many of us, it didn't work.  The same Brian Kemp who is now Governor of Georgia went on television and called the attempt to silence District Attorney Fani Willis POLITICAL THEATER! He is correct, but the question is why? He was certainly firm in his statement and appeared to be sincere.
Just maybe, Governor Kemp has other ambitions, and he will need not only the Black vote but also the Asian American vote. After all, they are the fastest-growing number of voters in Georgia. It's quite possible he will need all their votes for his next move whether it's for the United States Senate or even President of the United States.  We don't know what the Governor's next move is, but we need to keep our eye on whatever it is.
Meanwhile, let's thank him for doing the right thing this time to allow District Attorney Fani Willis to continue the people's case against Donald Trump and his unfortunate friends who followed him to break the law so many times to help Trump. Governor Kemp has done his part by refusing to cooperate in allowing the Georgia legislature to unfairly and without cause to relieve Fulton County District Attorney Fani Willis of heading up the work that would send what should soon be a convicted criminal back to the White House.
Written By Dr. E. Faye Williams
Official website; http://www.efayewilliams.com/