Black Community: Explaining the ignorant, disgusting behavior received by Soccer star Vinícius Júnior.
(ThyBlackMan.com) Professional athletes of all backgrounds know that they will be subjected to taunts, boos, and jeers over the course of their careers. It's not listed in the "job description" but it is part of the job nearly as much as performing on the field or court of play. It takes some mental fortitude to push through sports fans attempting to throw off professional athletes with their words and sometimes even signs or posters for the artistically inclined. However, there is always a limit to what a professional athlete, who is still a human being, should be subjected to and unfortunately numbers of African professional soccer players receive a lot of abuse from some ignorant "fans" with their terrible and classless behavior. One of the most talented professional soccer players, Vinícius Júnior, was the most recent high-profile example of an African professional soccer player on the end of racist, ignorant abuse internationally.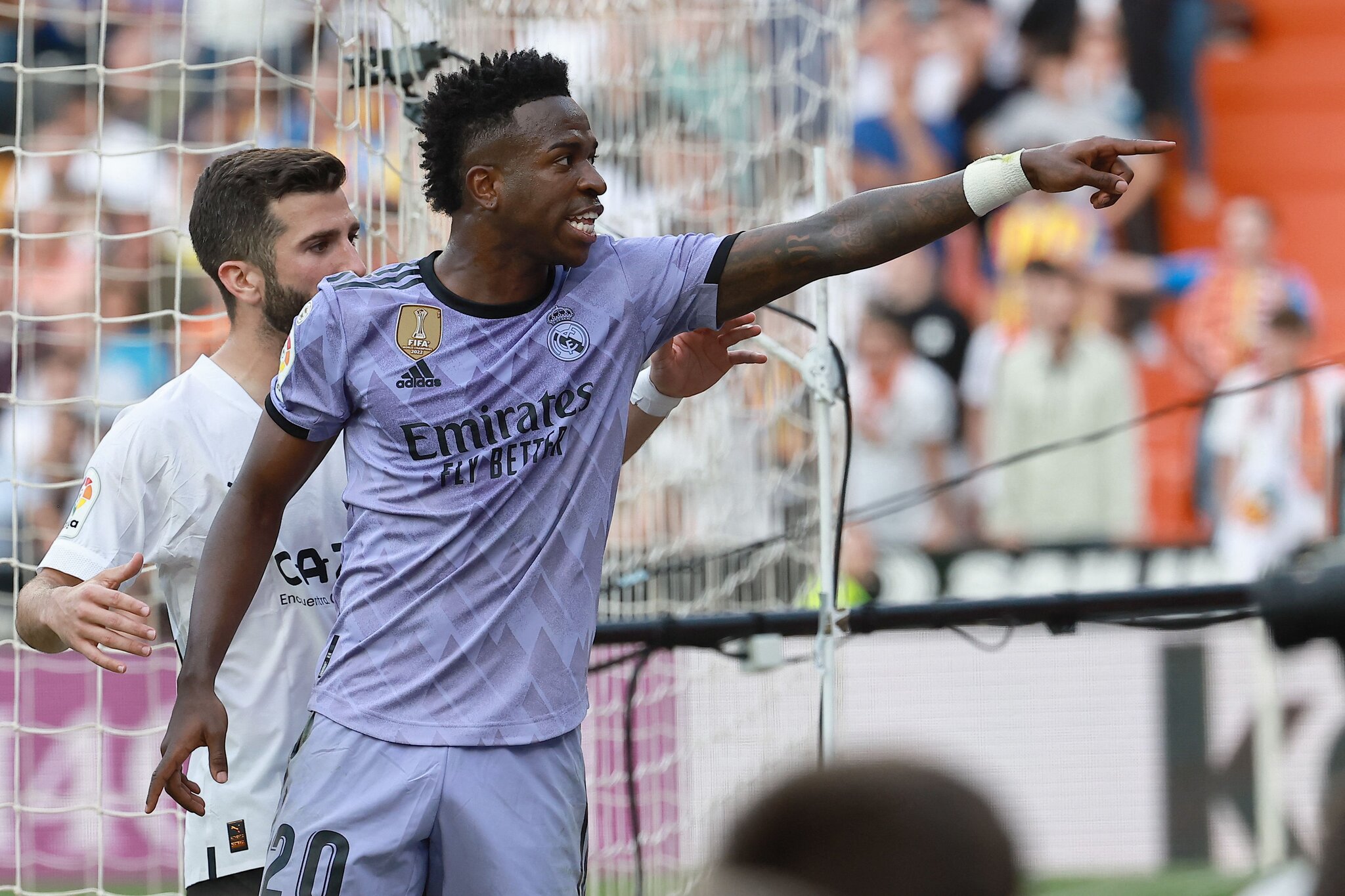 Vinícius Júnior was born in Sao Goncalo, a city located in the center of Rio de Janeiro, Brazil. He was born into poverty but displayed skills and ability in the game of futsal, which is similar to soccer, at a very young age. He decided to transition to the game of soccer and he passed his soccer trials at the age of 10 for club team Flamengo. Vinícius Júnior quickly became one of the top young soccer talents in Brazil, which is one of the top locations of soccer talent around the world. As a teenager, Vinícius was the subject of a transfer to La Liga club Real Madrid. The transfer was made effective after his 18th birthday, with Vinícius debuting for the club in 2018–19. Vinícius eventually became an impact player for Real Madrid's club win the 2021–22 La Liga title and he scored the winning goal in Real Madrid's 2022 UEFA Champions League final win.
Despite his impressive resume at an early age, Vinícius Júnior was the target of disgusting racial abuse during his club's recent 1-0 defeat away at Valencia. Vinícius himself vented his frustration in receiving the abuse in calling out La Liga and even an entire country by posting on social media, "It wasn't the first time, or the second, or the third. Racism is normal in La Liga," and he added, "I'm sorry for the Spaniards who don't agree, but today, in Brazil, Spain is known as a country of racists. And unfortunately, with everything that happens each week, I can't defend it. I agree. But I am strong and I will go to the end against the racists. Even if it's far from here." Worse, seven people were arrested in connection with two separate racist incidents including the abuse during the soccer match directed towards Vinícius Júnior and four arrests in Madrid, Spain, involved the hanging of a mannequin wearing a Vinicius shirt from a bridge near Real Madrid's training ground in January, which is as terrible as it sounds.
Despite Vinícius Júnior's status and wealth relative to the average person, he still received racist treatment. His Brazilian nationality doesn't hide the fact that his family lineage is clearly African. African revolutionary Malcolm X, who's birthday recently passed, reminded people that, "To me the earth's most explosive and pernicious evil is racism, the inability of God's creatures to live as One, especially in the Western world". A strong and deep response that explains the racist abuse received by Vinícius Júnior.
Staff Writer; Mark Hines