Nikki Giovanni: The Voice of a Generation.
(ThyBlackMan.com) Nikki Giovanni is a renowned African American poet, writer, commentator, and educator. Born Yolande Cornelia Giovanni Jr. on June 7, 1943, in Knoxville, Tennessee, her poetic voice has resonated across generations, addressing pressing social issues, celebrating Black culture, and exploring themes of love and human connection. Throughout her career, she has published numerous volumes of poetry, children's books, and essay collections. Her work has earned her numerous accolades, including the Langston Hughes Medal and the NAACP Image Award. In this article, we will delve into Giovanni's life, her poetry, and the impact she has had on American literature.
Early Life and Education
Nikki Giovanni was born into a family that valued education and literature. Her mother, Yolande Cornelia Sr., was a social worker, and her father, Jones "Gus" Giovanni, was a teacher. The family moved to Cincinnati, Ohio, shortly after her birth, where Giovanni grew up in a racially segregated neighborhood. She attended Woodward High School, where she was involved in the literary magazine and student government.
Giovanni's early education and exposure to literature fueled her passion for writing. She enrolled at Fisk University, a historically black college in Nashville, Tennessee, and was actively involved in the civil rights movement during her college years. Despite facing expulsion from Fisk for her activism, Giovanni returned to complete her degree in history in 1967.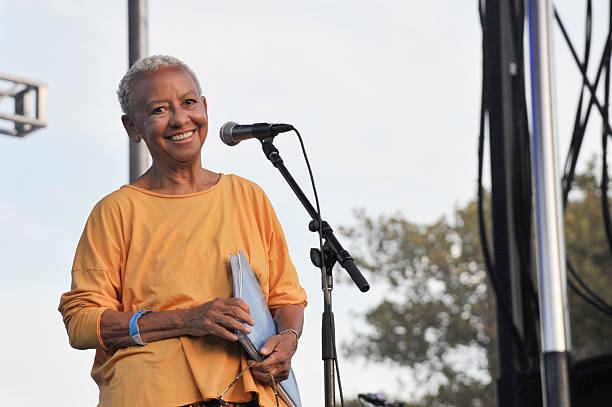 The Emergence of a Poetic Voice
After graduating from Fisk University, Giovanni pursued graduate studies at the University of Pennsylvania and Columbia University. However, she ultimately decided to focus on her writing career, and her first collection of poetry, "Black Feeling, Black Talk," was published in 1968.
"Black Feeling, Black Talk" was a groundbreaking collection, addressing issues of racial injustice, inequality, and the African American experience during the civil rights era. The book was well-received and established Giovanni as a powerful voice in American poetry. Her second collection, "Black Judgement," was published in 1969 and further solidified her status as a prominent poet.
Nikki Giovanni and the Black Arts Movement
Giovanni's early work was closely associated with the Black Arts Movement, an artistic and cultural movement that emerged during the 1960s and 1970s. It sought to create a unique and revolutionary African American aesthetic in literature, visual arts, and music. This movement was characterized by its emphasis on Black empowerment, self-determination, and cultural pride.
As a leading figure in the Black Arts Movement, Giovanni's poetry resonated with the African American community, particularly during the turbulent civil rights era. Her work often celebrated Black culture and history, criticized white-dominated institutions, and addressed the need for change.
The Evolution of Giovanni's Poetry
While Giovanni's early work focused on social and political issues, her later poetry began to explore themes of love, human connection, and the complexities of life. In the 1970s, she published several collections, including "Re: Creation" (1970), "Love Poems" (1976), and "Cotton Candy on a Rainy Day" (1978). These works showcased her evolving poetic style, which became more introspective, personal, and emotionally charged.
In the following decades, Giovanni continued to publish poetry collections, as well as children's books, and essay collections. Her work has been characterized by its accessibility, emotional depth, and profound exploration of the human experience.
Teaching and Influence
In addition to her writing, Giovanni has had a long and distinguished career in academia. Since 1987, she has been a professor at Virginia Tech, where she teaches writing and literature. As a beloved educator, Giovanni has inspired countless students to pursue their creative passions and has been recognized with numerous teaching awards.
Giovanni's influence extends beyond the classroom, as she has been an important cultural figure in American society. She has been invited to speak at prestigious institutions, including the Library of Congress and the United Nations. Additionally, she has been a frequent guest on television and radio programs, discussing her work, offering her unique perspectives on current events, and advocating for social change.
Awards and Recognition
Throughout her illustrious career, Nikki Giovanni has been the recipient of numerous awards and honors. These include the Langston Hughes Medal for Outstanding Contributions to African American Literature, the NAACP Image Award, the National Book Award finalist, and the American Book Award. In 2015, she was named one of Oprah Winfrey's 25 "Living Legends."
Giovanni has also received honorary doctorates from several universities, including her alma mater, Fisk University. Her work has been widely anthologized and is studied in classrooms across the United States, making her one of the most significant and influential poets of her time.
Legacy and Impact
Nikki Giovanni's work has left an indelible mark on American literature and culture. As a poet, she has given voice to the African American experience, capturing the struggles and triumphs of her community. Her work has transcended racial and generational boundaries, resonating with readers from all walks of life.
Giovanni's poetry has inspired countless artists, writers, and activists, and her contributions to the Black Arts Movement have been crucial in shaping the landscape of African American literature. Through her teaching and advocacy, Giovanni has made a lasting impact on generations of writers and thinkers.
Conclusion
Nikki Giovanni's life and work embody the power of the written word. Her poetry has transcended time and space, speaking to the universal human experience while remaining deeply rooted in the specific context of her African American heritage. As a poet, educator, and cultural icon, Giovanni's influence on American literature will undoubtedly endure for generations to come.
Staff Writer; Jamar Jackson
This brother has a passion for poetry and music. One may contact him at; JJackson@ThyBlackMan.com.