NBA Owner: The "noble" billionaire.
(ThyBlackMan.com) Although the 2023 NBA All-Star Game was a bit of a dud, the 2023 NBA All-Star Celebrity Game had its share of interesting moments and characters from Seattle Seahawks wide receiver DK Metcalf to Jimmy Kimmel Live correspondent Guillermo Rodriguez to musician/actress Janelle Monáe. One of the more interesting names on either roster for the game was Ryan Smith, who was an honorary team captain and is the owner of the Utah Jazz. He's the co-chair and founder of Qualtrics, an experience management company in Provo. For many NBA fans that game was their introduction to Smith, who founded the company Qualtrics with his dad during his time as a student at Brigham Young University. Despite Smith's relative youth for his 44-year old age, his net worth is now rumored to be around $1.5 billion, per Forbes.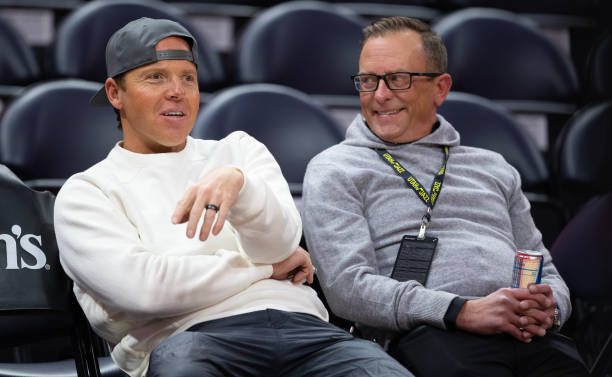 Beyond taking part in the 2023 NBA All-Star Celebrity Game, Ryan Smith was part of a panel of the first-ever NBA All-Star pitch competition.  It was similar to TV's "Shark Tank" but featured eight Black entrepreneurs, including four from Utah, who got the chance to pitch Smith, Jazz minority owner Ryan Sweeney, American Express' Elizabeth Rutledge, Beta Boom Managing Partner Kimmy Paluch, and UnitedMasters CEO Steve Stoute on their business ideas. For the entrepreneurs who pitched their businesses and aspirations to Smith and the panel it was a big deal to meet with capitalists who could make significant investments in their small businesses.
Of course, most professional sports teams in the four major sports of the NBA, NHL, NFL, and Major League Baseball are owned by individuals worth billions of dollars. Most professional sports fans cannot relate to the wealth of millionaire athletes and far less billionaire team sports owners. It is certainly headline-grabbing when billionaire sports team owners "give back" to working people as was the case last month when former Phoenix Suns owner Robert Sarver gave a $20,000 bonus to approximately 300 team employees and Sarver also donated $5 million to the team's charity. Whatever came over Sarver to lead to those acts is interesting as is the approximately $1.48 billion he and his group made after selling the Suns to a new owner. It is possible that Sarver gave away the bonuses and made the donation with good intentions while it is also possible that he would rather that be the most recent headline of his Phoenix Suns tenure rather than the terrible allegations that led to his selling the team in the first place.
There is little doubt that the "coolest" professional sports owner in North America is Charlotte Hornets owner Michael Jordan. Unlike most professional sports owners, most sports fans are aware of how Jordan accrued his tremendous wealth given his legendary NBA playing career, remarkable endorsement success, and his history-making basketball shoes. Jordan recently hit a major individual milestone in celebrating his 60th birthday on February 17 by donating $10 million to Make-A-Wish America. His contribution was the largest donation ever received from an individual in the 43-year history of the organization. There is little doubt that Jordan's contribution will have a major impact on so many lives of young people facing illnesses.
Charity is an important part of every sports organization and virtually every billionaire professional sports owner has a charity with an important cause. However, charity isn't the same thing as justice as Dr. Martin Luther King, Jr. reminded us back in 1967 when he said, "A true revolution of values will soon cause us to question the fairness and justice of many of our past and present policies. On the one hand we are called to play the Good Samaritan on life's roadside, but that will be only an initial act. One day we must come to see that the whole Jericho Road must be transformed so that men and women will not be constantly beaten and robbed as they make their journey on life's highway. True compassion is more than flinging a coin to a beggar. It comes to see that an edifice which produces beggars needs restructuring."
Staff Writer; Mark Hines