The Miseducation of Lebron James.
(ThyBlackMan.com) Not to get to far ahead of myself, I want to say that this isn't picking on one individual but rather a mind set promulgated by the most insufficiently well-read of the populous. One of the many books that has informed my inflections on the world insofar as race was concerned was written by Carter G. Woodson. It was titled "The Miseducation of the negro. One the most astonishing passages that I recant goes as follows: "If you can control a man's thinking you do not have to worry about his action. When you determine what a man shall think you do not have to concern yourself about what he will do. If you make a man feel that he is inferior, you do not have to compel him to accept an inferior status, for he will seek it himself. If you make a man think that he is justly an outcast, you do not have to order him to the back door. He will go without being told; and if there is no back door, his very nature will demand one."
Now I am not raging on any individual but if there was anyone single person that Woodson could throw this disposition upon presently, it would be LeBron James. Now I personally think dude is a kind spirit. I really don't care about his basketball talent for any man that funds scholarships and starts a school is top shelf in my book. But if I must keep it one hundred, I can't get on board with his self-appointed venerated purview of being a spokesman for the totality of the black condition in America. Honestly, I consider such an effrontery on as many in my community refer to as "keeping it real." The way I see it is that folk like James jump out on limbs while holding books during interviews that they have not read. Let me explain.
Recently, the NBA star made some comments on social media, that (thankfully for reporting from other news outlets) I was able to read, even given my permanent ban from twitter about an Ohio teen who was shot dead by a police officer named Ma'Khia Bryant. Without going into any additional detail, what I noticed was a distinction between he and I: My first response was to identify with the girl in pink about to be knifed and he with the girl about to knife. My first reaction was to see the girl in pink as my daughter and his was the girl with the knife as his daughter. I can't imagine any man especially a father positioning themselves on the behalf of the sword wilding pirate over a weaponless person. As such I could not resolve this conundrum. The main reason was because I did not understand why this was such a big deal for the multi-millionaire and future hall of famer insofar as he felt that his thoughts needed to be heard. Dude seems to pick and choose when he complains while he rides around the metropolis of the west coast version of Gotham city protected by police with guns. Me, I buy my own guns and as a wise man one said – have Gat will travel.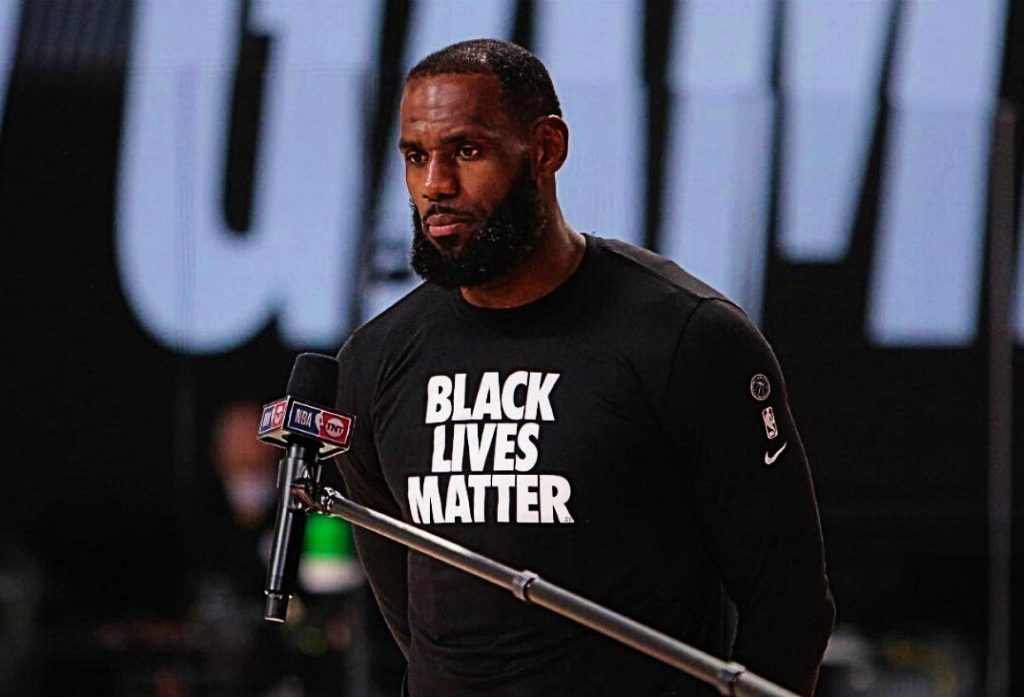 I never heard Mr. James say one thing in complaint about the 16 and 14 year-olds fatally shot and killed in the Capitol Hill Autonomous Zone (Chaz) or Capitol Hill Occupied Protest (Chop), set up amid protests over the killing of George Floyd in Seattle or 8-year-old Secoriea Turner, who was killed near the Wendy's where Rayshard Brooks died. No tweets and no speech. I find this strange since Mr. James is all about racial justice, or should I suggest selective racial justice. James doesn't seem to care about Asian women being hit in the head with a hammer or Larry White who after being shot 13 times in Baltimore over spring break survived and expects to graduate from college. He was lucky because another black man was recorded as the 100th homicide in the city after another black teen shot 13 times at him just this week.
The problem with all of this is that it seems to be not only consequential but equally fake – the outrage that is. I never hear or see these folks complain about the tangible things that we have the power to change. This is particular to education – crime also for that matter but let me tackle education first. This is observable in many urban predominantly black communities from DC to Chicago.
Prior to the Covid 19 pandemic, Black kids across the nation were not truly benefiting from participation in government public schools. In Baltimore, an analysis in 2017 of testing data of city schools found one-third of high schools in in 2016 had zero students proficient in math. A recent report revealed that one student attending Baltimore Public High School student just passed 3 classes in four years resulting in a rank near top half of his class with 0.13 GPA.  In California, Statewide huge achievement gaps between black and white students persevere in all subjects including an astonishing 41- and 38-point difference in 8th-grade math and reading. In San Francisco for example, 19 percent of black students passed the state test in reading, compared to 31 percent of black students statewide. In fact, approximately 68 percent of all African American students in California perform below their grade level in English and language arts and about 80 percent of Black students fail to meet the state's proficiency mark. In Atlanta, the public-school system is still recovering from a massive cheating and test taking scandal that resulted in the conviction of eleven educators for racketeering. With the onset of massive school closings, mostly in large urban areas, many Black students will suffer the most from these decisions. But you will not see any of these uber rich black celebrity cats mention this. They would rather donate money to some group to receive permission to virtue signal without getting their hands dirty.
The way I see it, cats like Mr. James have built their own backdoor. This America and from my eyes, seems he can't see that he has it better here than anywhere else, even the slave labor camps that makes his shoes. Albeit they are wealthy, they have not managed to utilize the basic skills of math, reading or writing. They typically say dumb shit because without reading regular, they just mock and repeat what they hear in the absence of critical thinking. The same is true with the regurgitate talking points pertaining to black's being killed and hunted by police. This is ridiculous. Fact is that most crime, and I hate to say such is committed by black folk in America. This we get shot more while commiting criminal acts. I have the math to prove this but the utilization of numerators and denominators may in the future be used as proof that I am a racist.
Not because we are genetically disposed to criminality but because mostly due to many of us being raised in fatherless environments and equally the byproduct of the welfare system passed by Lyndon B. Johnson. In nine U.S. cities from 2019 to 2020, homicides increased with more than 85% happening in predominantly Black and Hispanic neighborhoods.
Mr. James I reckon is a cool dude but at the same time represents all that is wrong with the black community – letting idiots who do not interact or engage with people no more than on a topical sense pretend to speak on all of our behalf. This is the personification of ridiculous because it only extends the validation of idiocy we all need to abrogate if we truly desire success and individual empowerment. Even worse, it is a real world depiction of a community reduced to listening to folk who can't perform basic math, finish reading a book, use subject verb agreement and think the Chinese communist party is something to admire as opposed to speak down against.
Staff Writer; Torrance T. Stephens
You can follow this brother over at; Daily Thought Crime. Can also purchase any of his books over at; Amazon – TTS Books.