What's Featured in the iOS 13.1 Beta.
(ThyBlackMan.com) On August 28th, Apple dropped the iOS 13.1 beta. When it officially releases next month, it's supposed to have a ton of new and improved features. Of course, expect the company to roll out the announced features over the lifespan of iOS 13.
As for the iOS 13.1 beta, there's only a few of mentioned features. Actually, you could probably just wait until Apple rolls out the commercial iOS 13 but for Apple aficionados, you'll want to be on the ground floor of the new OS even if a little is revealed. Plus, this isn't particularly new for operating systems in general.
A lot of features are still in development even after the OS is dropped but there's an expected release window to meet. Just look at Windows 10, some of the features were mentioned, didn't roll out at launch and it's one of the reasons we get updates four years later.
With that said, let's get into what iOS 13.1 does reveal.
iOS 13.1 Features
Now, there's support for the Xbox One controller and PlayStation's Dualshock 4. You'll also be able to monitor how charged the controller is in the Battery Widget. A very minor feature but I can't tell you how many times I've picked up a controller thinking I'm going to dive right in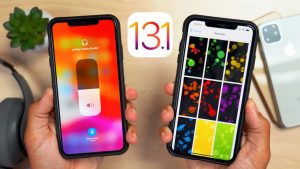 and there are no bars and the icon is blinking. Tragic.
For your street navigation needs, one feature returned to Maps: Share ETA. Basically, you can share your travel plan with friends and family and it shows the ETA of when you will arrive as well as your route. It's a great feature for safety reason and just general planning. Apple also changed the interface for Share ETA. Personally, I love the cleaner look of it.
The Automation tab returns with iOS 13.1. This allows you to run shortcuts automatically. It was originally dropped in iOS 13's fifth beta. As for the rest of features introduced in the beta, you're talking mostly cosmetic things, nothing overly functional. There's a Volume HUD, dynamic wallpapers got new colors, and there are new features for HomeKit.
Anticipated Features for iOS 13
I'm a fan of dark mode in anything. I only view Twitter in dark mode. YouTube? Dark mode only. If there's a dark mode feature, oh I'm using it. Apple is improving dark mode for iOS 13 to make it look better on screens but you will also be able to schedule when the feature kicks in. I mean, as I said, it would be on all the time but for iOS users who rock with dark mode, this will be a boon.
Sign-In with Apple seems like a feature that wouldn't get much shine but for security and privacy reasons, this is a big feature. Normally, you'll have to sign in with Google, Facebook, Twitter or an email in most places. Also, you can hide your email with this new feature. So, apps you don't want to share your email with because some will do whatever with it or send annoying notifications and ads, Apple's got you covered. On top of that, it will also create a buffer email to handle all of that stuff.
Since Apple is amping up its security aspect and using the cloud to protect all your important information, Sign-In with Apple is something I'm looking forward using. Another feature is Maps. This one is getting some new features worth noting—particularly Collections and Share ETA.
I went into Share ETA above, it's great for safety so that your loved ones know where you're heading and when you should get there. Collections allows you to add locations, you know places that could be your favorite spot or ones to avoid. You can also share these collections with others. It will be interesting to see what all Collections does and how Apple will improve on it in the future.
Apple Going Forward
It's not an exaggeration to say that iOS 13 is looking great at the moment. There are several features I didn't delve into since they're more or less improvements on existing ones that don't stand out too much. Look forward to more on iOS 13 when Apple hosts its big iPhone 11 press event on September 10th. Most signs point to the handset's release on this date but I'm betting it's going to be specifications, features, and an announced release date.
Stay tuned.
Staff Writer; M. Swift
This talented writer is also a podcast host, and comic book fan who loves all things old school. One may also find him on Twitter at; metalswift.