Should You Pick Up The Samsung Galaxy Note 10 Plus.
(ThyBlackMan.com) So, the Samsung Galaxy Note 10 dropped earlier this month and it's everything that was expected. After all, if Samsung gets anything right it's the Galaxy and the Galaxy Note line of devices.
I mean, sure they had that issue with the Galaxy Note 7 and its exploding batteries back in 2016. And yes, around 2.5 million devices were returned. Sure, they sold more than 2.5 million Note 7s and some weren't returned while others were put on Ebay, however, there have been no explosions since and outside of the battery issue on that one, the Galaxy Note is a top-notch device.
When the Galaxy Note 10 released, you know that the Note 10 Plus wasn't too far behind and like clockwork, it released August 23rd. I'm a big fan of phablets, so let's go into this one.
Technical Showdown: Samsung Galaxy Note 10 Plus vs. The Note 10
Now, the Note 10 is already a wee bit bigger than the Galaxy S10. This has always been expected as is the Plus being bigger than Note 10 itself. While the original is a little under 6 inches in length and under 3 inches in width, the Plus is a bit over those in both dimensions at 6.39"x3.04". It keeps the 0.31" thickness of the Note 10.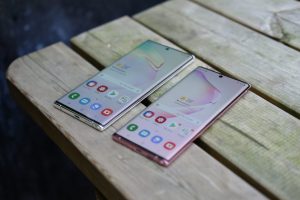 With the extra size comes a little more weight but it's isn't significant at all. It's not like you're trying to pick up something that's Thor's hammer in weight and you're going to have difficulty lifting it. Oh, and there's a stylus. Not to be dismissive of those who love their stylus action but nine times out of ten I'm going to lose it.
Both the Note 10 and the Note 10 Plus come with the latest protection in Gorilla Glass 6. Since it came out in March, the Galaxy S10 comes with Gorilla Glass 5. The display is dynamic AMOLED capacitive touch with 16M colors—so standard. The display size differs by .5" with the Samsung Galaxy Note Plus being 6.8". There's also a difference in resolution here because of the size.
Both are running Android 9.0 Pie and they're identical as far as GPU and CPU are concerned. After all, you're not going to stray too far with a device that dropped within weeks of each other. The camera is similar but the Plus also gives you this TOF 3D VGA camera. Also, the battery is different. Both batteries are beasts but the Note 10 Plus' battery really delivers.
The Differences
Besides the size and display factors, the only other differences come in the way of memory. The Samsung Galaxy Note 10 Plus gives you usage of the SD card slot with a 1TB maximum. You're also getting a choice of size here. The Galaxy Note 10 gives you 8GB RAM with 256GB internally while the Plus gives you 12GB RAM in both versions and the choice between 256GB and 512GB.
Another cosmetic difference is that you get Pink and Red with the Galaxy Note 10 while the Plus just gives you the original colors: Blue, Black, White and Glow. I've just seen Black but the Glow version is nice. It really stands out.
Verdict
If you're a fan of Samsung's devices, prefer the Android OS, and prefer phablets—definitely. That's a no-brainer. As a matter of fact, you should probably skip the Samsung Galaxy Note 10 and just get the Plus. There are a few other options such as the Huawei P30 Pro which is a big boy, but the Galaxy Note 10 is pretty much the premier phablet. It costs more and gives you the majority of the same features but for great viewing, reading and gaming on a mobile device, run with the Plus.
Rating: 9.5/10 (Extremely Recommended)
Staff Writer; M. Swift
This talented writer is also a podcast host, and comic book fan who loves all things old school. One may also find him on Twitter at; metalswift.