Can a head coach be too religious?
(ThyBlackMan.com) Being a head coach or manager in Major League Baseball, the NBA, NFL, or NHL can be a very lucrative position. Being paid millions a year while being accommodated with quality room, board, and airport flights are some of the perks of having to manage various personalities on a team, some or most of which make more money than the head coach does. There are also long nights and hours dedicated to getting the most out your team and doing well enough to avoid being fired by the owner of the team. There have been numerous types of head coaching personalities that have had long-term successes in the four major professional sports but one particular head coach has raised some questions and that being the "religious" head coach.
During his long NBA career, former point guard Mark Jackson was known for his passing and ranks fourth all-time in assists. His post-NBA playing career has been interesting and he now forms ESPN's top NBA commentary crew with former NBA coach Jeff Van Gundy and play-by-play announcer Mike Breen. Jackson also is known for coaching the Golden State Warriors before their current head coach Steve Kerr made them one of the NBA's greatest ever dynasties. Despite Jackson's regular season record improving in each of his three seasons as a NBA head coach, he hasn't been a coach since being fired by the Warriors on May 6, 2014. One of his former players, Andre Iguodala has been on a book press tour and recent intimated during a radio interview that Jackson has been blackballed from the NBA due to his religious beliefs.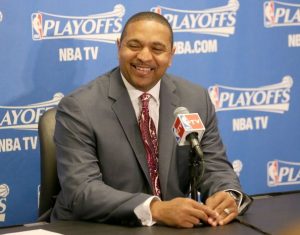 Mark Jackson's strong religious beliefs were obvious during his time as a NBA head coach. He reportedly invited his then-star player, Stephen Curry, to his church and his wife, who is also the co-pastor of the church, anointed Curry's injured ankle with oil. Jackson's religious views have led some sports journalists to speak out against him. Jackson himself entered controversy with his response to when Jason Collins came out as an openly gay NBA player back in 2013. Jackson said, "I will say this. We live in a country that allows you to be whoever you want to be. As a Christian man, I serve a God that gives you free will to be who you want to be. As a Christian man, I have beliefs of what's right and what's wrong. That being said, I know Jason Collins, I know his family, and am certainly praying for them at this time." Praying for someone is generally considered a noble act when they are feeling sick, hurt, or in despair but after a person makes an important personal announcement about their lives then mentioning "right and what's wrong" can be perceived as condescending and judgmental.
Arguably the most well-known current or former head coach in professional sports with strong religious ties is Pro Football Hall of Famer Tony Dungy. His calm demeanor and pleasant personality stood in sharp contrast to the stereotype of the NFL head coach who yells, curses, and intimidates his players with rage. Dungy was also not shy about being a Christian and even wrote books during his coaching career about his life and the role religion plays in it.
Ironically, there is also some discussion about Dungy's reaction to former NFL player Michael Sam's coming out years ago as well. It is notable that despite their perceived views that both Mark Jackson and Tony Dungy make significant money as television sports analysts for major television networks. There are people of various religious faiths who work in big-time sports and people are clearly not unemployable even if they are overt in their religious views in sports but there comes a question of whether those views lead to statements or comments that are hateful or inflammatory towards minorities such as the LGBT community, who are as human and worthy of respect as anyone reading this article.
Staff Writer; Mark Hines