Top 5 Best Men's Accessories You Should Get Right Now.
(ThyBlackMan.com) Do you want to be another man lost in the sea of average? Or do you want to stand out in the crowd? Don't you want to be the reason everyone is turning their heads?
Well, the perfect accessories can help take your style and confidence to the next level. Whether you are at the bottom of the totem pole or the CEO of a company, what you wear says a lot about you.
Stop letting your position or job title determine your style and how you carry yourself. Keep reading for the best accessories for men today!
5 Accessories You Need Now
While there are many accessories that can help you level up your fashion game, here are the top 5 must haves for 2019.
1. A Watch
Fashion trends ebb and flow like the waves of the sea, but a watch is something that never goes out of style. This timeless accessory is a titan for men's fashion.
The best part is that there are really no rules when it comes to picking out a watch. It should reflect your personality and your own unique sense of style.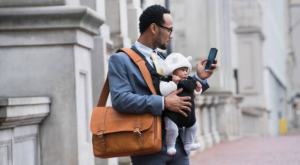 Maybe that's a professional look with a leather band. Or maybe you like your technology and are looking for cool gadgets for men, like a high-tech smartwatch.
But don't get too stressed out. Your watch doesn't need to break the bank… unless you want it to. It doesn't matter if you wear a Rolex or a Timex, if you feel comfortable in it, that's all that matters!
2. A Nice Wallet
There are some accessories that are no-brainers such as a wallet. But if it's something you have to carry at all times, shouldn't it make a statement about you?
If you want a professional look, you can't go wrong with a leather bi-fold wallet. The standard colors for this would be black or a shade of brown. This gives you the utility of having plenty of slots for business cards, identification, and credit or debit cards.
But let's say you want something a little more alternative or minimalist design to fit your personality. There are countless professional looking wallets available with things like your favorite sports team's logo, or your favorite superhero symbol.
No matter what it looks like, a wallet is a must-have accessory.
3. A Leather Belt
Sometimes subtlety is a man's best friend. You don't always need to be wearing something super flashy or extra. If your style is a little more toned down, a nice leather belt can pull the outfit together and make it unique.
When picking out the perfect belt, black and brown are going to be your primary colors. It is important that the belt works with the rest of your outfit, and should match your shoes if possible. This creates consistency throughout the entire ensemble.
4. Sunglasses
Not only is this a functional accessory, but it's also one that can add that extra kick of style you may be looking for. Protecting your eyes from the sun's rays are important if you are outside with any consistency. So why not look good doing it?
Sunglasses, much like a watch, says a lot about your personality. Figure out what style of sunglasses suits you and fits your face well. Many people have multiple pair depending on the occasion.
5. Suit Add-Ons
If you live in the business world, chances are, you are wearing a suit to work each day. Most people don't have the luxury of owning a dozen different suits. But you can add some small, inexpensive accessories to change it up each day.
Ties and bowties can be a really simple way to make 3 or 4 suits look like you have a whole wardrobe of them. Things like lapel pins and cuff links can also add some flair and reveal your personality.
But don't stop there, wacky and fun socks can also be a great addition. This one really lets you flex your creativity and uniqueness.
Keep It 100
As you can see, the right accessories can take your style game up a notch. Mix and match to create a style that is unique to you. And at the end of the day, remember there's millions of people in this world, but only 1 of you.
It's time to be the best version of yourself you can be! For more amazing lifestyle and fashion tips, head to our website now!
Staff Writer; Brad Short